(Check out: Empress Green Marble Handbag Sculpture Showcase)
When something is "set in stone," you know it's good for life. Statues and monuments made hundreds of years ago still stand proudly today, in museums and collections all over the world, and because they're made of stone, they'll be in fine condition for hundreds more still. But longevity is hardly the only appeal of stone sculpture. Metal, for example, is arguable even more durable, assuming it is stainless and resistant to rust. But even though brass and bronze are hugely popular, it's not for their indestructible nature: there are far harder metals. And above all, stone still comes out on top anyway. There is a certain quality about marble stone sculpture that goes far beyond the practical. Things carved from stone simply look better: it's like the sculptural equivalent of movies shot on film stock, or music records made of vinyl. Incredible things can be done with this material, and objects which are already highly regarded for their visual and aesthetic quality lose nothing when adapted into stone statues by passionate sculptors.
Like hand-carved stone sculptures, designer bags made by some of the most valuable luxury brands in the world spare no expense, and have no extraneous or arbitrary details: everything must be just so, the materials must be immaculate, and the design perfect, otherwise what is the point? Brands such as Fendi, Louis Vuitton, and Coco Chanel are often imitated—sometimes deceptively so—but never exceeded or even matched when it comes to high-end style. So why wouldn't they make the perfect subjects for such a time-honored art form as stone sculpture? And better yet, what greater challenge is there for a master sculptor than the perfect replication of a product famous for its painstaking precision and its resistance to counterfeiting?
Of course, these marble facsimiles are not pretending to be the real thing: all you would have to do is try and lift one up, and the illusion would quickly give way to an explosive realization that the precise leather creases and the seemingly loose dangling zippers and threads are actually carved from solid rock!
(Check out: Luxurious Showcase Hand Carved Nero Marquina Marble Handbag)
Splashed with enthusiastic white marble color veins blending the sophisticated bag design with a punk spirit, this marble sculpture is indeed made of solid stone, although it is so perfectly carved that even the interplay of light reflecting off of the sculpture's surface replicates the texture of leather. Here we have a perfect marble replica of a Hermès Birkin tote bag, one of the most iconic luxury products of the high fashion world, and the Nero Marquina black marble has recreated it wholesale with dizzying perfection. Both the marble bag and the Birkin it is based off of are showstopping works of art, crafted with an immense attention to detail. In the marble sculpture, not only are the bag's zippers and handles perfectly realized, but even the subtle shape of the bag with its precisely formed curves can fool you into thinking that not only is the bag real, but there are also real items stored inside!
(Check out: Are of Stone Sculpture Solid White Marble Handbag)
Fine-tuned leather straps, dangling zippers, handles leaning slightly to one side under their gentle weight: everything is here, like a photograph, except it's all been painstakingly carved from solid rock. This time it's made of Beijing white marble: creamy off-white stone, almost beige in the proper light, smoothly finished to the point where it is hands-down unbelievable that it ever originated from the crust of the earth. But the Beijing marble's long journey from the mines to the leathery finish of a Hermès Birkin bag is a story befitting such a work of art as this, where every disparate element comes together to find its perfect place as a single piece. Indeed, that's how the original bag is created, too.
(Check out: Solid Stone Handbag Carved from Green Marble)
Emerald green empress marble pours its dynamic color scheme down the side of this marble Birkin tote bag like a waterfall of pale ink, giving it a visual aesthetic that can be found nowhere else. Scaly dyed leather may come close, and indeed would result in an actual bag, but nothing can truly achieve the true marble "look" other than the genuine stone. Honestly, however, you would be hard-pressed to even tell the difference from a casual glance! Along with the clasps, straps, and handles, such is the quality of the marble sculptor, as well as the sheer natural beauty of the empress green marble.
(Check out: Aesthetic Stone Modern Art Craftsmanship Showcase Marble Bag)
A satisfying diamond pattern with detailed texture and masterful modeling puts the Coco Chanel handbag line a step above the rest, assuring that the brand and product is familiar even to people who aren't customers or interested in high fashion. Appropriately, the exact same thing can be said of this dazzling marble sculpture of the classic handbag, carved entirely out of solid empress green marble stone: truly the perfect material for such an ambitious product that is based on such a revered original design. The artistry and talent that created this stone Chanel handbag is such that you would expect the solid marble to fold softly under your hands, and its thin chain, draped so casually over the top of the sculpture, seems to waver back and forth like a real metal chain might. It is truly a masterful feat of sculpture, and the dark empress green marble is the perfect match to the Chanel bag's design.
(Check out: Modern Sculpture of Yellow Onyx Louis Vuitton Suitcases)
You might think that a trunk, with its rigid edges, hard, smooth sides, and more geometric shapes, would be an easier task for a marble sculptor to duplicate. But as with most quality art, the easy way out just wasn't satisfying for this passionate sculptor, who decided to compensate for this relative simplicity with a new layer of detail: look closely at these spectacular Louis Vuitton trunks and see how the beautiful beige marble has been engraved with a gorgeous pattern of the brand's recognizable symbols and logos, just like the original Louis Vuitton trunks the sculpture is based off of. From there, nothing else is taken for granted, and (despite the square shapes) no corners were cut in production. The handles, the hinges, the buckles and clasps… there is no detail that goes unnoticed in this piece. If there were, then what would be the point of such a sculpture? The premise itself demands perfection.
When we talk about the passion of the artist, we're usually referring to a lifelong dedication not only to their particular craft, but often also to the specific themes that they have found themselves profoundly drawn to. In this case, a powerfully talented sculptor named Barbara Segal has been working with marble stone in the traditional method since her early twenties, and her most popular and famous artistic subject is high-end fashion bags from luxury brands. In the 1980's, Segal developed both a professional skill and a personal interest in carving astonishingly precise stone facsimiles of fashionable products and bottles while working for Avon Cosmetics, and from there, she set her sights on what would end up being her legacy: luxury bags from Chanel and Hermès. Somehow even more impressive is that, at the time, the humble artist wasn't working with the infamously expensive products directly: she carved her sculptures based off of images found online! Much cheaper, and a much better story to tell at interviews!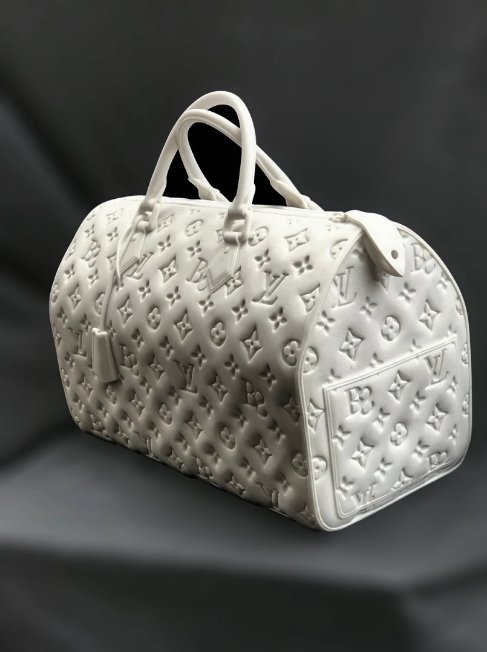 (Check out: Marble Bag Decoration Ornament by Marblebee)
One of Segal's latest works, titled "L.V.B.S" (referencing the initials of both her own name and the Louis Vuitton brand off of which the sculpture is based) was released in 2017 and shows her at the absolute height of her unfathomable technical and aesthetic prowess. This is a sculpture carved from pure marble that could genuinely pass as an actual leather Louis Vuitton bag, complete with subtle indentations, the most minute of weight distributions, and the appearance of a soft texture… at least from visuals alone. Once you reach out to try and pick the "bag" up, all bets are off. But imagine the look on that unsuspecting person's face! This piece was made of white Greek marble as a part of Segal's Designer Handbags collection, and is engraved with the brand's precisely embedded logos with skills the artist picked up over the course of her fabled career: during her work at Avon Cosmetics, she learned "how to do [perfume] bottles to a thousandth of an inch," as she said in a 2016 interview with the New York Post.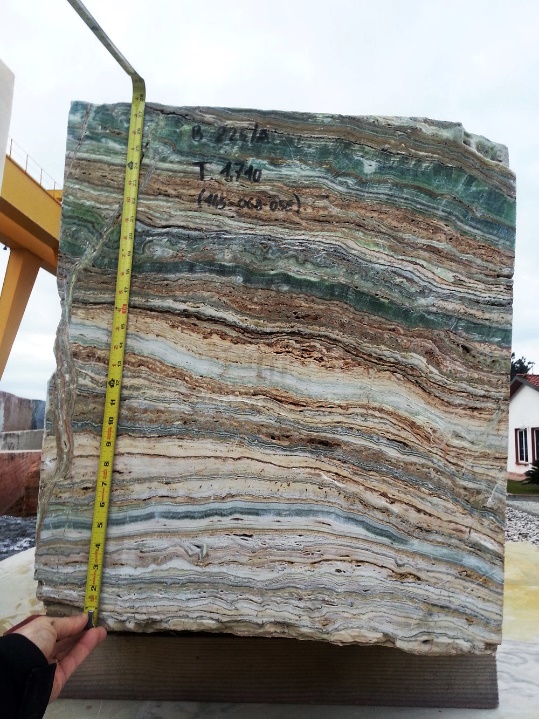 (Check out: Marble Bag Decoration Ornament by Marblebee)
Like Marblebee making our own marble designer bags, Barbara Segal also crafts her sculptures out of raw, whole marble stone, such as this untouched block of Verde Smeraldo onyx, which is a beautiful kind of green marble found in Iran and Pakistan. Anyone who looks at this stunning piece of earth can instantly see how valuable it would be to a marble sculptor; you don't need any kind of creative talent or skill yourself to recognize how useful the natural layers and the jagged stripes of color, flowing and fluttering up and down like ocean tides, would be to an artist hoping to include a dynamic sense of color and weight to their work. Below, you can see how this particular block of Verde Smeraldo onyx turned out.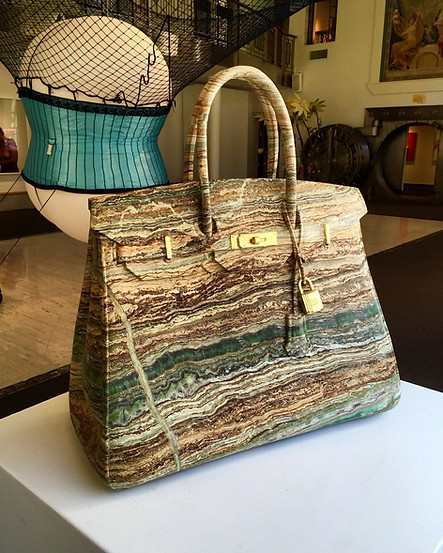 (Check out: Marble Bag Decoration Ornament by Marblebee)
Only the distinctive colors and layering patterns of the original onyx block are recognizable anymore after Segal has applied her singular gifts to the stone block: so utterly transformed is the green onyx marble that our brains might once again forget what it is we're actually looking at: solid rock. This particular piece was carved in 2016 and is very aptly titled "Candy Verde." The bag's tall, square shape lends itself greatly to the onyx stone's layered color scheme, and the swirling "eyes" and the fluctuating nature of the stripes and layers gives the sculpture an added sense of flow, as if it is indeed made of a thin, soft fabric that is bending and bulging slightly as real bags tend to do.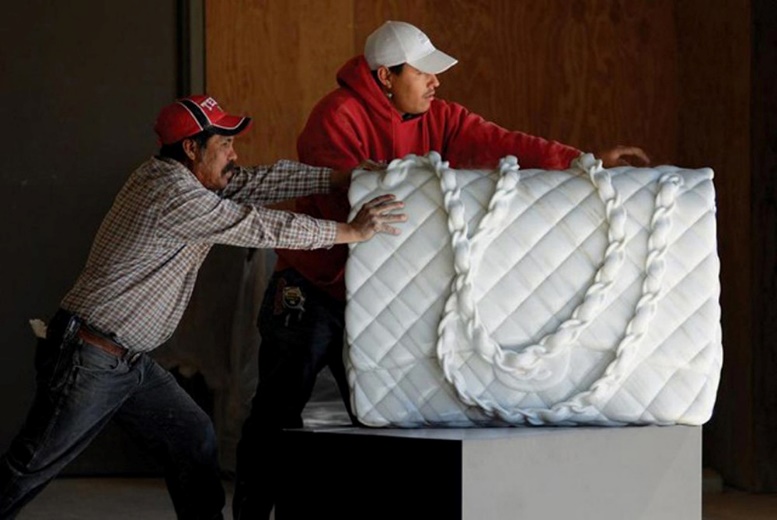 (Check out: Marble Bag Decoration Ornament by Marblebee)
As with any great artist, Segal's body of work, while focused on a very specific theme, is wide and varying, and anyone might walk away with any one of her sculptures as their personal favorite. However, in 2013, Segal crafted the monumental piece that almost ten years later is considered by many of her fans to be her magnum opus: a truly gigantic white Utah marble handbag which she titled "Obsessive Compulsive." A gorgeous pearly white replica of a designer handbag by the Coco Chanel brand, the sculpture is a perfect facsimile in every way… except for size, as it is a whopping three feet tall, and weighs a literal ton at two thousand pounds! "Obsessive Compulsive" is now permanently fixed at the opulent Hotel Ella in Austin, Texas as an exhibition, and its great size and difficulty of transportation is actually the smallest reason why it has no plans of ever moving from that resort: the Hotel Ella has been listed in Fodors Travel Guide's "10 Artsiest Hotels in America," where Barbara Segal's work stands alongside the likes of photographer Ansel Adams and fellow sculptor Charles Umlauf.
The concept of a marble sculpture replica of a designer handbag may seem oddly specific and niche at first glance… but once the pairing has had some time to settle in the mind, it will start to seem more difficult to pull them back apart than it ever was to imagine them together. Themes of fashion and aesthetics cooperating with—or overshadowing—practical function, as well as themes of sumptuous indulgence, painstaking craftsmanship, and preservation for posterity link marble sculpture and high-end designer fashion as much as the more common and general themes of consumerism and the looming power of pop culture as an art movement. It's also simply impressive. For just a moment, try to forget the myriad artistic statements these mighty craftsmen have made with their marble fashion replicas, and just marvel in the meticulous detail, the grand scope, and the awe-inspiring precision that goes into making these amazing feats of stone smithing. All of this is what you have to gain from a marble designer bag.