Rose quartz bathtub is one of the most beautiful bathtub in the world. Rose quartz bath belong to its gemstone bathtub family. Almong all the gemstone bathtubs exist in the designer's and bathtub world, The Le Grand Queen, designed by Simon Krapt is the most expensive one in the world. So among all these famouse gemstone design bathtub, why rose quartz bathtub become a trend and popular in the market?
How much does a rose quartz bathtub cost?
You could spend 1 million on a rose quartz bathtub, or you could spend just $30,000 to $50,000 USD on a rose quartz bathtub if you find the right factory to custom for you.
If you google rose quartz bathtub price, the first few one pops up and tells you that it's worth a million. Well, what they didn't tell you and perhaps because the blogger didn't know about is that there are many types of rose quarts in the world. So if you have 1 million budget for a rose quarts bath, you better find the best designer for it. But if you don't have 1 million budget for that, there are plenty of choices for you to choose from.
How can you tell good quality onyx and quartz?
First of all, like all diamons has grade, quartz stone, onyx stone are also have grade level. Here we need to bring up another topics, what's the different between rose quartz and rose onyx stone block? The answer is not much different. They all derive from earth, they are all translucent, one is mineralogy and the other is a banded variety of chalcedony.
This expand our range of choices. A common quartz tub or onyx tub could cost $30,000 to $50,000. A way better number compare with 1 million
A common, more affordable rose quartz bathtub use pink onyx or rose quartz from Iran. The first grade of rose quartz would be dark pink transulcent rose color without any black vein. The third grade of rose quarts would be light pink with a line or two black vein.
However, vein doesn't mean the quality is not good. Some designer love the black vein inside the translucent rose quartz bathtub. Some don't
First grade of rose quartz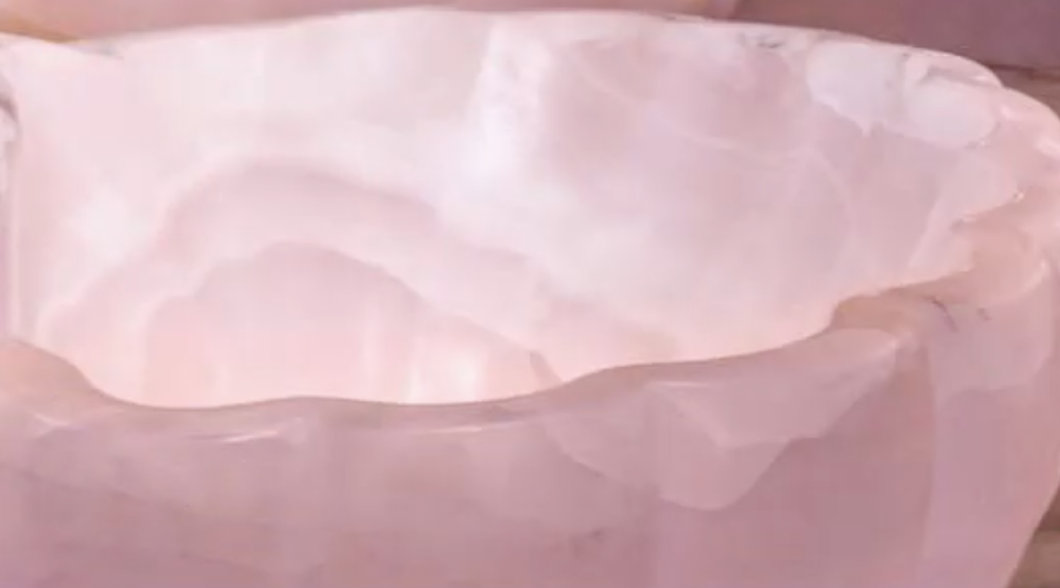 Third grade of rose quartz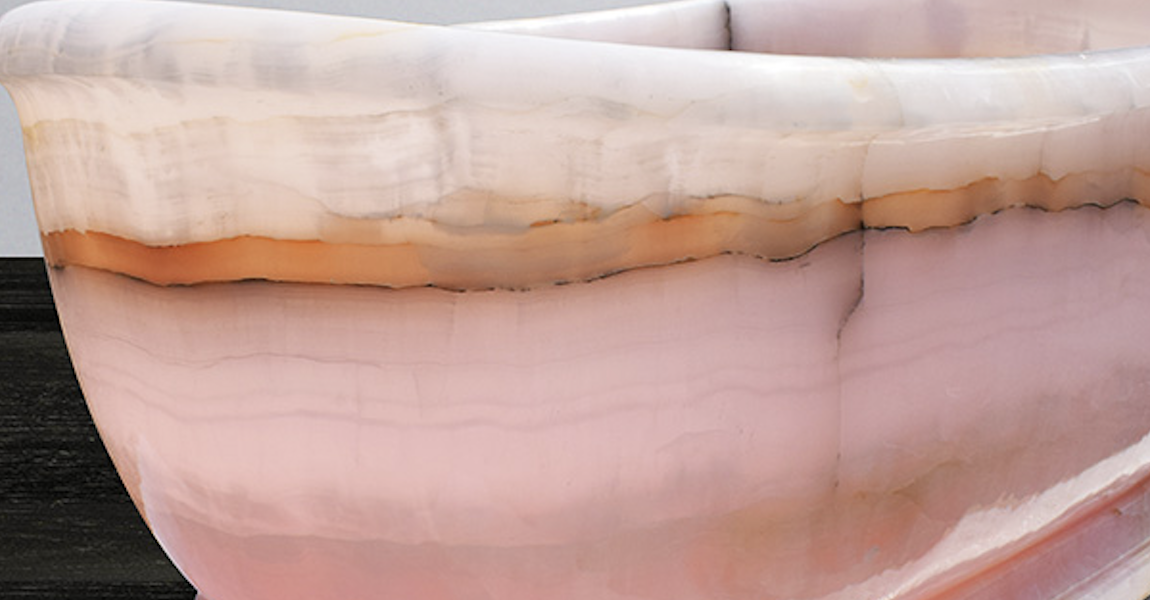 The first grade rose quartz mateirial has less other color other than pink and the third grade rose quartz has outstanding natural veins like a painting. The price difference for these two rose quartz bathtubs is only about $20,000 USD. Which do you like? Email us for your idea!
Pink onyx bathtub vs rose quartz bathtub
Want to give a luxe touch to your bathroom? A luxury bathroom needs some astonishing bathroom furniture and accessories made of high-quality materials. By adding a stunning bathtub in your bathroom is one of the best representations of luxury decor. To create an innovative bathroom decor, you may consider installing a pink onyx bathtub or rose quartz bathtub in your shower room.
Both these bathroom materials are unique in their appearance and properties. Moreover, each material offers its individual essence to a bathroom.
Let's discuss both these materials and how to incorporate them in your bathroom.
Pink onyx bathtub
The intriguing nature of onyx is its lack of haziness. This pink material is more translucent compared to marble. It makes it extraordinary for lighting purposes. For instance, it's perfect to create an illuminated bathtub with a gleaming appearance.
The pink onyx bathtub has a lovely exquisite shading. This particular pink material is known for its richness and opulence. Therefore, homeowners must consider it for their bathtub for adding a sense of magnificence to the interior.
It is a good decision to install a pink onyx bathtub in your bathroom because this material is known to soothe stress and nervousness. Therefore, it makes perfect sense to install an onyx bathtub in your calming bathroom for unwinding.

Incorporating a pink onyx bathtub in bathroom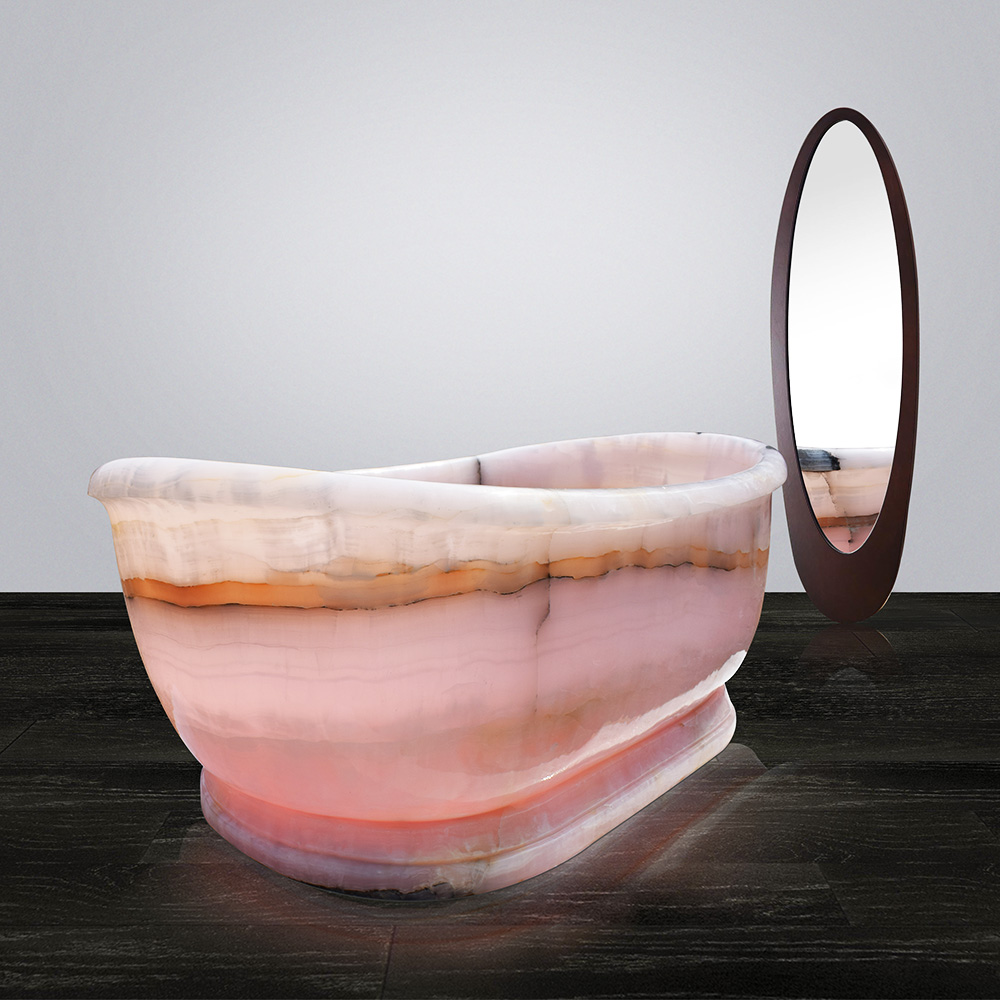 In the image given above, you can see how pink onyx has been sculpted as a bathtub. This light-colored bathroom will look great in a minimal bathroom design with all-white or other neutral shades. This pink bathtub will add a touch of tint to your otherwise plain or bland-looking bathroom.
If you don't like the typical oval-shaped bathtub design, you can even get it customized in a circular or rectangular shape or any other shape of your choice. No matter what design or style you choose, a pink onyx bathtub will instantly take your bathroom decor to another level. Do give it a try if you want a bathtub with a simple yet unique look.
Rose quartz bathtub
Rose quartz bathtub is another stunning masterpiece for a luxury bathroom design. The quartz in rose pink hue is made by experienced manufacturers with an unrivaled passion for precious materials. This particular material is known for its gorgeous and expansive design.
However, the tub's exterior can boast a rough surface to let its authentic beauty shine through. And, the interior of the tub must be smooth to ensure maximum comfort. Such a bathtub design will be a perfect masterpiece for luxe bathroom decor. Meanwhile, it will meet your personal preferences.
Incorporate a rose quartz bathtub in bathroom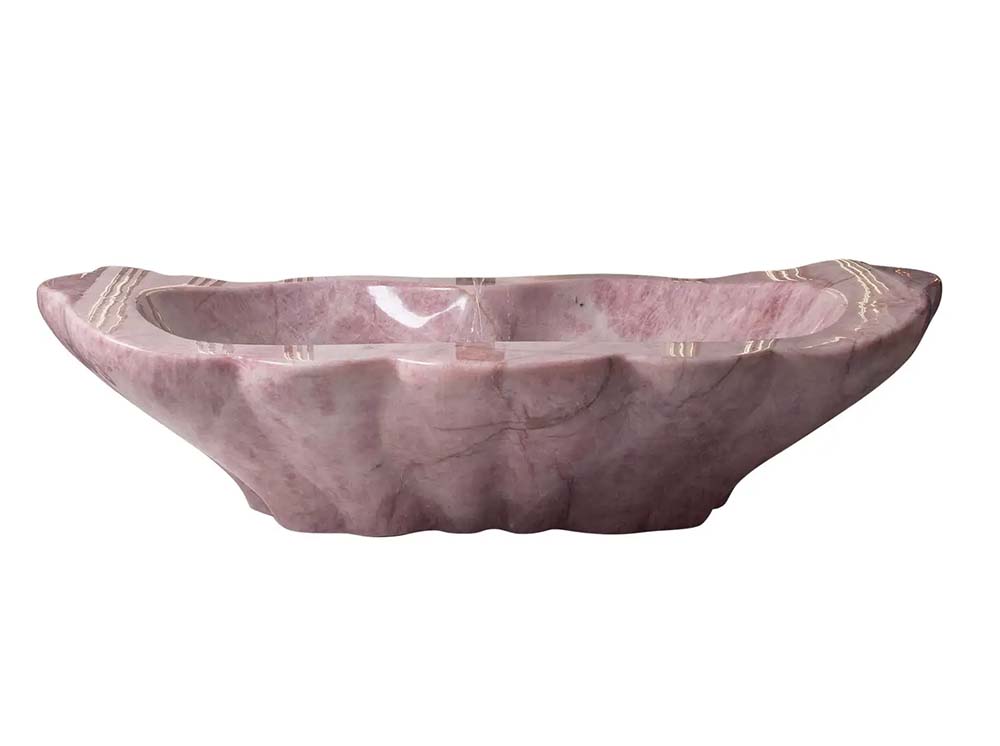 Just have a look at this stunning rose quartz bathtub (in the picture above). This stunning bathtub boasts a marble-like appearance along with a shiny surface. This particular shade is perfect to place in a modern bathroom design in white or gray shades. You can even place it in any other neutral-colored bathroom interior.
To meet its extravagance, make sure to install superior quality bathroom hardware and fixtures. You must ensure that the faucets and other hardware are simple in design but superior in quality. This way, the overall appearance of the bathroom and the bathtub will match each other.
Difference Between Pink Onyx Bathtub and Rose Quartz Bathtub
1. Appearance
Pink Onyx:
Pink onyx bathtubs are available in lighter shades. While you can find onyx in various colors, pink is perfect to add a romantic and elegant touch to the interior. This material is often layered with different neural tones, like beige and cream, along with the pink tinge. Onyx bathtub also boasts many patterns and variations. It may have specks, which are similar to quartz. Or, it may have veins as you see in marble. It may even boast swirls found in granite. It means that you can choose any design or pattern of your choice to make the interior appear rare and exotic. If you are looking for a stunning and unique bathtub design, pink onyx is a perfect option.
Rose Quartz
Even quartz is available in many stylish designs, color, and pattern options to meet your needs. Since it is an engineered material, quartz can mimic the appearance of granite, marble, or concrete. When it comes to rose quartz bathtubs, they can be made to order. It means that if you have any offer curves, angles, or any other situation, quartz is easier to shape as per your requirement. Rose quartz is also available in different choices in the finish. So, you can customize the overall appearance of your quartz bathtub more exactly to your bathroom interior and individual style.
2. Lifespan
Pink Onyx:
Another advantage of the pink onyx bathtub is that it is a natural stone material with a long lifespan. If taken good care of, it can last up to 100 years. It means that you won't have to replace your bathtub in your house in your entire lifetime. So, if you are looking for a long-lasting material, do consider it.
Rose Quartz:
Unlike onyx, rose quartz can last you for a good 20-30 years. However, if you take good care, it can also last a lifetime. But if you get bored of its look, you can get it replaced. If not, you need to work on its overall maintenance and routine care for making the material last a long duration.
3. Durability
Pink Onyx:
Pink onyx is just like black diamond, however, it is not as durable and shiny. Onyx is a softer gemstone with amazing wearability. But it needs to be taken care of for prolonging its life. You need to do routine cleaning and sealing of this material to ensure it's not damaged by external factors.
Rose Quartz:
Since quartz is harder compared to granite, it is highly durable. Quartz is also known as nearly indestructible, as it is not porous like natural stones. Therefore, it is easy to keep this bathtub material bacteria-free.
4. Porosity
Pink Onyx:
Pink onyx, like other natural stones, is a porous material. So, you need to treat it like marble with the proper annual sealing schedule. The compounds and tools needed for polishing marble are also needed for onyx. It will ensure that the material remains unaffected by external factors and won't get damaged on daily use.
Rose Quartz:
Rose quartz is a non-porous material and doesn't need any sealant to prevent it from moisture and another external factor. It means that it is easier to upkeep a rose quartz bathtub without putting extra effort into maintenance.