Just like any other room in your house, your bathroom must be designed imaginatively and stylishly. After all, this is the place where you spend the most amount of time refreshing your body and mind. A bathroom consisting of good materials, calming colours, and aesthetic textured walls are some important elements to give you a relaxing experience. But another important thing to include in your bathroom for the most relaxing experience is a premium bathtub.
However, buying the right bathtub for your bathroom is quite difficult. It is because you're not quite aware of the best material for your bathtub. But in this guide, we'll discuss the right material for your bathtub, as well as how to choose and maintain it to last for many years.
Before choosing a material for your tub, you firstly need to consider the overall colour scheme of your bathroom. Depending on the theme or design of your bathroom, you can decide the right material for your tub. Furthermore, consider adding the right fixtures onto your tub to make it as comforting and relaxing as possible.
Which is the best material for a bathtub?
While there are many materials, like wood, porcelain, fiberglass, acrylic, etc., available for bathtubs, the best material indeed is natural stone. The naturally found stone is available in many varieties to make distinct types of bathtubs. A natural stone bathtub is hand-made from a block of any naturally occurring stone. Some of these natural stones include marble, granite, sandstone, onyx, and travertine.
All thanks to the natural stone of your choice, you can add subtle-effect and organic aesthetics to your sturdy bathtub. However, these tubs are long-lasting and may even need additional supports for installation.
You even need to indulge in extra care and maintenance to keep your natural stone tub looking as amazing as possible. Some natural stones, such as marble, granite, and travertine, are easy to sculpt into an elegant bathtub that lends timeless opulence to your bathroom.
While stone tubs need constant maintenance for keeping them in good condition, they are highly durable. If you love the organic look of stone, you need to consider looking for the premium quality material that lasts longer.
What is the most durable material for a bathtub?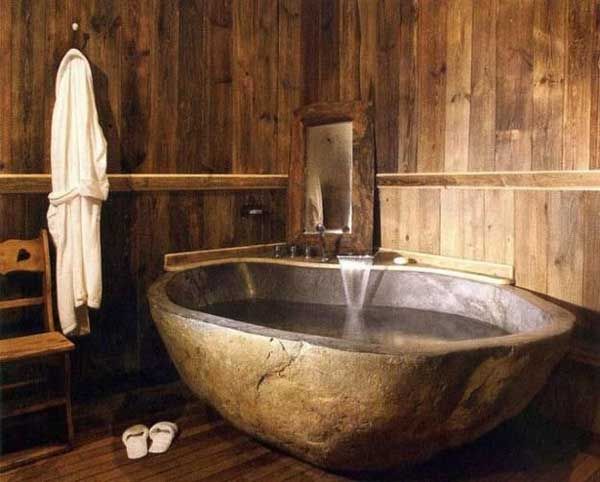 As mentioned before, the natural stone bathtub is considered most durable compared to fiberglass, wood, acrylic, cast iron, or porcelain. Unlike other artificial stones that are vulnerable to cracking and chipping, natural stone is extremely durable. Even if the natural stone cracks or shows any other sign of damage, these are easy to repair all thanks to a hand polishing machine or with the help of a professional.
Compared to acrylic and other artificial tubs, the natural stone tub can retain heat around ten times. So, they can maintain the warm temperature of water for a longer duration than other materials. Even the wall thickness of the natural stone tub provides it robust body and keeps it well-insulated.
How to buy a stone bathtub?
(Check out: Travertine stone bathtub)
When looking for a stone bathtub, you need to consider various factors to make the right choice. For instance, you need to know the material, like material, granite, travertine, etc., to ensure you can properly take care of it. You even need to consider the available space in your bathroom to ensure the selected bathtub size and shape fit the given area. Also, consider consulting a professional bathtub manufacturer or supplier to get a perfect fitting bathtub in desired material for you.
What is an artificial stone bathtub or a natural stone bathtub?
(Check out: Black Marble bathtub Unique Papillon design bath)
An artificial stone bathtub consists of fiberglass and acrylic elements. The material used for making an artificial stone tub is made with a chemical blend of acrylic and stone powder. On the other hand, a natural stone bathtub is made from naturally occurring stones, such as marble, onyx, granite, sandstone, or travertine.
Compared to an artificial stone bathtub, a natural stone bathtub is more durable due to its thicker tub wall that also provides better heat retention. Another difference is their versatility in organic colours, which gives natural stone baths unique and brighter hues. The natural baths are also highly durable than artificial stone tubs.
The natural stone bathtubs are often hand-carved using a block of organic stone. However, artificial stone bathtubs are made with machines and other technologies. Another difference between the two is that artificial stone tubs are available in pre-designed shapes and sizes. However, natural tubes are customized, making their shapes and sizes highly flexible.
If we have to choose one, we would suggest you choose a natural stone bathtub - as it is highly superior to an artificial stone tub. The stone tub also remains lustrous and beautiful, as well as lasts longer than an artificial stone tub.
What are the pros and cons of the natural stone bathtub?
(Check out: Modern Italian White Carrara Marble Bathtub)
Given below are some noteworthy pros of natural stone bathtubs to make you realize why this material is the best for your tub:
Customized shape and size: Natural stone bathtub is hand-made from an organic stone block. Every stone tub is custom-made as per the needs of the user. Unlike artificial stone tubs, which are made with pre-set mold, natural stone bathtubs are made to order.
Heat retention: The natural stone tub is known to retain around 10 times more heat than artificial stone tubs. It means that you can relax in the warm water temperature for a longer time.
Durability: You can find natural stone bathtubs in ancient Roman buildings. It shows that this organic natural stone is likely to last for hundreds and thousands of years, provided you maintain them well. While some natural stone surfaces may get scratched or chipped over time, it is very easy to repair superficial damage with polishing tools.
Add value to your interior: All thanks to a freestanding natural stone bathtub, aesthetic value is added to your bathroom interior. It can be a gorgeous statement piece for your powder room. Since natural baths are likely to stay strong for many years, you don't have to worry about changing them after ten years or so. It means that they will keep adding value to your home for many years.
Perfect choice for Zen-style bathroom: The Zen-style powder rooms have become famous lately. It is because everyone needs to add a Zen style to their space for adding meditative and calming vibes to the given space. Stone bathtubs are perfect for such purposes, as they are soothing and relaxing to help people clear their minds while connecting them to nature.
Cons of a stone bathtub - The only con of a natural stone bathtub is that they are very heavy, as they may weigh over 100 kg. But the professional stone bathtub manufacturers can install them for you with ease, as they have the right tools and equipment for installing stone tubs into your bathroom. For more Customized Marble Bathtub please contact us by email.