The ritual and art of bathing distinguish widely all around the world. If we talk about Japan, water is known to be very important for spiritual and physical cleansing. That's the reason why the country has a very different approach towards bathing and even its bathing fixtures. One popular bathroom fixture in Japan is a soaking tub (also known as ofuro or furo).
This Japanese tub is quite different from the ones available in the US. However, due to their benefits on health and well-being, these soaking tubs are also becoming quite popular in other parts of the world, including the US and UK.
What is a Japanese soaking tub?
A Japanese soaking tub is a steep-sided, deep bath that lets users sit in (instead of lying) and soak in hot or warm water. This soaking tub is known to provide a completely immersive experience to the bather. The modern Japanese soaking tub made of stone enables you to soak your body in the water comfortably. Meanwhile, it helps in maintaining a good posture.
The soaking tubs are all about unwinding and relaxation than just bathing. Hence, these are considered a luxury addition to the modern bathrooms to add a different style to the interior. Even if you have a small bathroom, you can still get a soaking tub installed in it - as it takes less area.
But remember that its sides are much higher compared to a traditional western bathtub. So, you may find it difficult in getting in and out of a soaking tub - especially if you have physical challenges. Due to the additional height of the soaking tub, the faucet has to be wall-mounted or floor-mounted to add to the whole modern aesthetics.
How to build a Japanese soaking tub?
To build a Japanese freestanding soaking stone tub, you don't have to spend a fortune. You can even create it with functional and recycled lumber. However, the wooden tub would begin to crack in a few months.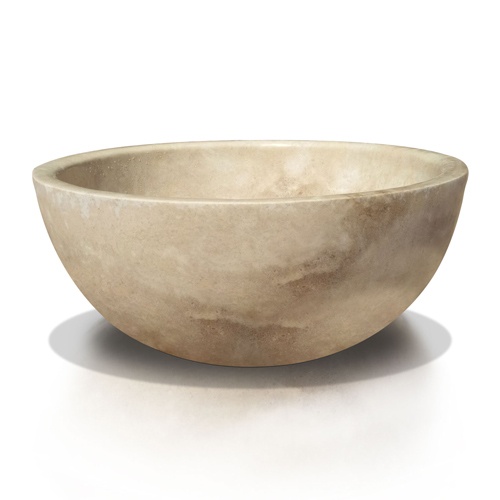 Therefore, you need to look for a more durable and long-lasting material, like natural stone. But the cost of a natural stone soaking tub would vary depending on the selected material, its availability, manufacturer's price, etc.
If you're thinking of getting your soaking tub customized as per your preferences, you can get it installed by a professional contractor.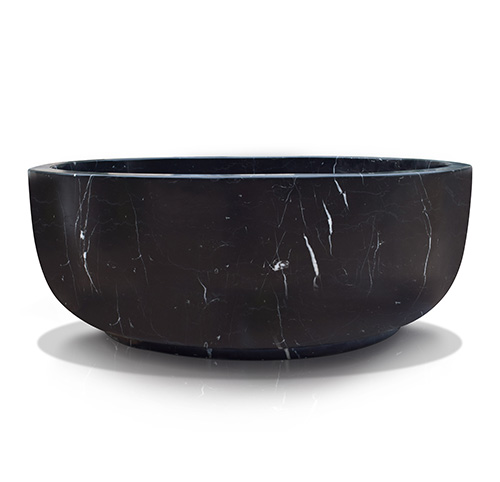 How to build a concrete Japanese soaking tub?
Concrete is one inexpensive material used for building Japanese soaking tubs. It is also durable and versatile. And, to build a DIY concrete Japanese soaking tub would take you a few days. You can even get a pre-made concrete tub and get it installed in your bathroom.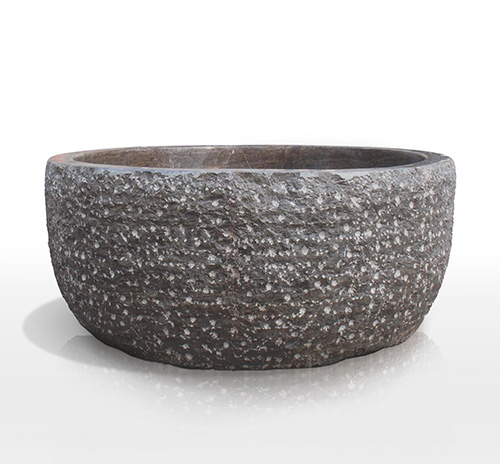 However, the problem with concrete soaking tub is that it begins to show cracking signs after a few years. So, it is suggested to go for a more durable and long-lasting material, like natural stone (marble or granite) for a soaking tub.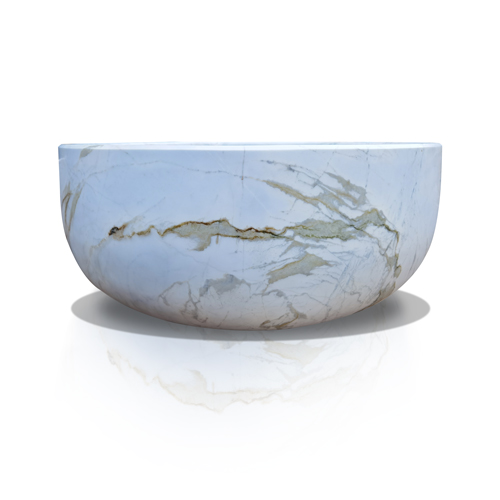 What is the best material for a Japanese ofuro soaking tub?
While there are many materials suitable for designing a Japanese soaking tub, the most long-lasting and durable material is natural stone - especially marble.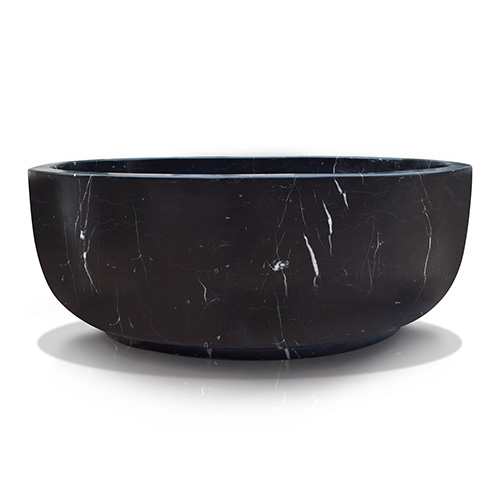 If you look at the premium Masha white marble soaking tub in the given image, it's perfect to add a sophisticated and calming feel to a bathroom. It is a custom-made round white marble soaker tub. In this tub, you can dive in to have a pool-like experience that too in the comfort of your living space. The innovative head-rest layout of this tub is completely customizable. So, if you're tall, you can get it personalized as per your length.
The best thing about this Japanese marble soaking tub is that it's integrated with an internal seat with a comfortable and sinuous ergonomic line. Therefore, it fits well with human body curves. The fine craftsmanship of this natural stone bathtub reflects the modern lifestyle.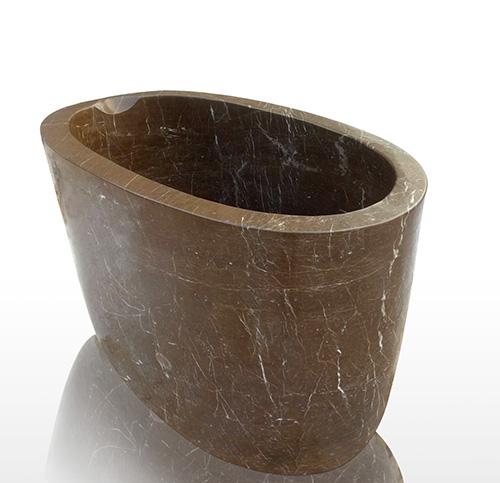 With the availability of total customization on the choice of material and dimensions, you can fit it perfectly into any available space in your bathroom. Once installed, you'll surely fall in love with its smooth design and elegant appearance.
How to incorporate a Japanese marble soaking tub in your life?
Don't just restrict yourself to using a Japanese marble soaking tub for only one purpose. Here are three different ways to add Ofuro tub to your routine: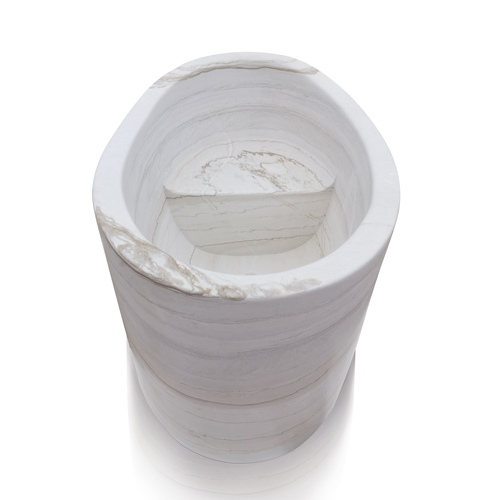 Kickstart your day right: When you begin your day by soaking yourself in a marble Japanese soaking tub, you get to set a peaceful tone for your whole day's activities. You can relax in the tub while visualizing how your day will be. Meanwhile, your body and mind will be in a relaxed state to take on any challenge that life throws at you. Each day will be your favorite when you begin it with a calming soaking experience.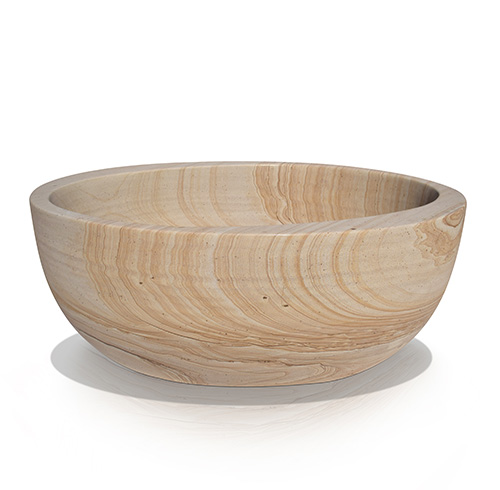 End your day with a relaxing soak: If mornings are not the right time for you to soak into your private tub, no issue! You can fill your soaking tub right after your get home or before going to bed. Just sit back, relax, and unwind the whole day's hectic pace as you close your eyes to enjoy the feeling of the serenity of the daily soaking experience. Just prepare your body and mind for a fresh, rejuvenating sleep right after the soak.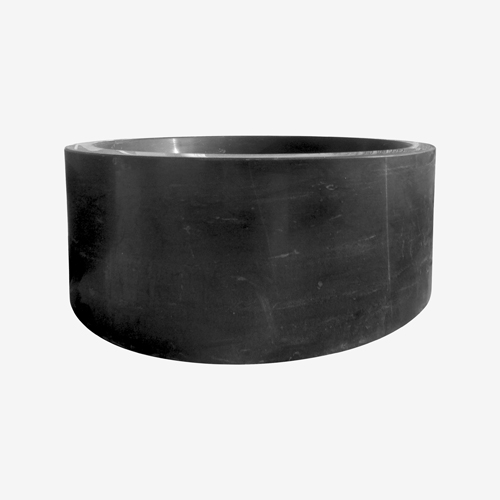 After a nice workout: Soon after working out for an hour, just soak yourself in your favorite Ofuro tub to relax your muscles and mind. As soon as you soak into the water, you'll feel the tension leaving your body and mind as therapeutic bathing water eliminates soreness from muscles. After all, there is never a wrong time to make the most of the healing benefits of your Japanese soaking tub.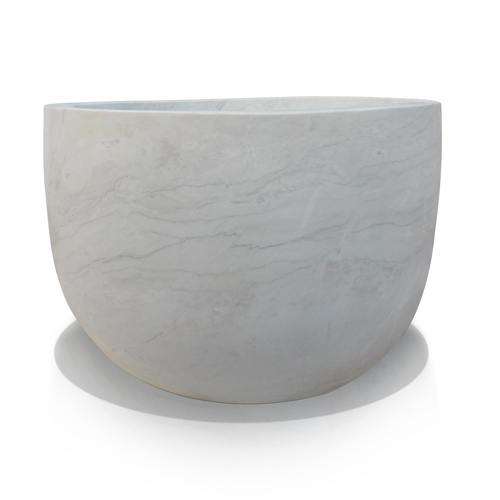 What are different installation options for a Japanese soaking tub?
Japanese soaking tubs are available in almost any shape, configuration, and mount. However, some installation options that you may consider are:
Freestanding tub: It is a statement piece as it stands on the floor without any wall attachment.
Drop-in soaking tub: This particular tub (also called deck mount or overmount) is named so because of its 'dropped in' design to the tub surround. Plus, the top portion of the tub is attached to the surround.
Alcove tub: It is the best option for a shower/tub combo. It is often attached to walls on the three sides.
Undermount tub: This tub style is attached to the surround from beneath with its counter-like deck that covers the tub's top edge.
Walk-in tub: These tubs boast a swing-out door to easily get into them. These are also suitable for people with physical impairments.
Corner tub: As per the layout of your bathroom, you can consider this tub configuration to make the most of the bathing space in your bathroom.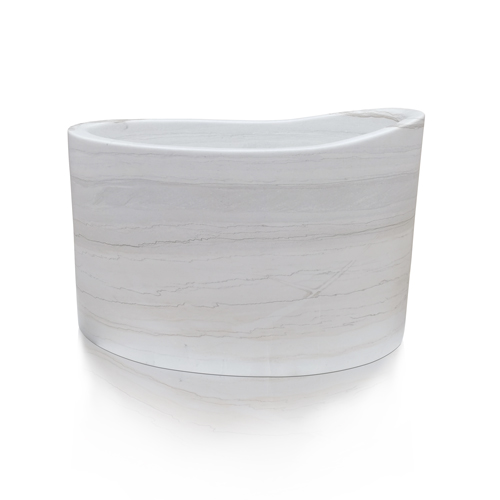 How to use a Japanese soaking tub?
A Japanese soaking tub comes with an integral seat to allow comfortable posture while sitting. The bather often sits upright in a deep soaking tub with their shoulder-deep in water - not lying back with their head as in the case of a bathtub.
It is usually smaller than the western style bathtub. You may even feel that your legs are not fitting in it properly. However, the whole point of calming the Japanese bathing experience is to rejuvenate body and mind - not stretch out in the tub.
For using a soaking tub, firstly you need to cleanse yourself outside the tub. You can either take a shower or bath with buckets of hot water outside the tub. Use soap outside the tub, as this tub is to be used by other people after you.
Also, make sure water is not extremely hot for you. You can even mix some cold water in it to decrease the temperature. Once the water is as per your body's bearable temperature, step in the tub and sit down. You can read, relax, listen to music, or watch something on your tab while soaking in the tub.
This tub is used by many people in different parts of the world to relax and calm down muscles, improve their overall health and well-being, improve breathing, balance hormones, and many other benefits.
How to get into Japanese soaking tub?
A deep Japanese freestanding marble tub is often compact. It is shorter but deeper compared to conventional baths. Most importantly, it depends on the depth not length for its comfort and capacity. The bather does not make to lie down with his/her head tilted, as in conventional bathtubs. But the bather has to adopt a seated, upright position for a comfortable soaking experience in a Japanese tub.
Some manufacturers can describe wrongly any comparatively deep bathtub as a soaking tub. But it is misleading to customers - as the bather cannot have a comfortable seated position in a long, deep bathtub. And, depth alone is not its defining characteristic.
The true deep soaking tub is described by the bather's posture. With proper seated posture, the strain is taken off from the shoulders and neck. Meanwhile, the depth of water ensures the bodyweight of the user is well supported. It also enables them to feel some weightlessness. The overall experience is significantly distinct from lying in a bathtub that is quite large in length. And, also considered superior to conventional bathtubs.
What are the benefits of a Japanese soaking tub?
So, why are Japanese soaking tubs considered better than any conventional bathtub? Well, all this is a matter of personal choice and preference. However, there are certain clear benefits of Japanese soaking tubs. The very first thing to keep in mind is that this tub is not intended for bathing only. But it's for offering relaxation and rejuvenation.
Keeping this in mind, it is easier to see why these soaking tubs are considered a great source of stress relief and relaxation. As you soak into the water, you get a completely immersive experience that's enhanced with its whirlpool jets containing certain modern models.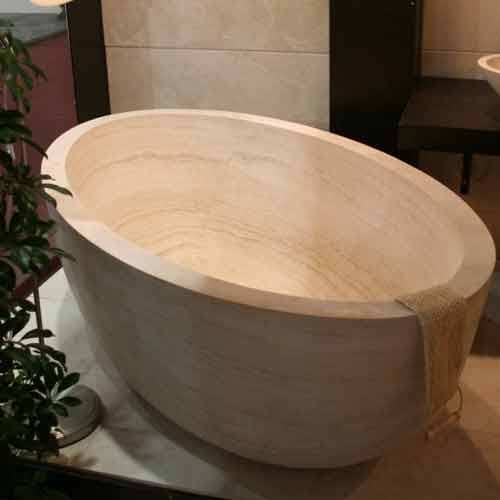 One of the best things about these Japanese soaking tubs is that they are timeless and calming. The stress-busting benefits that only Japanese people used to enjoy ages ago are easily accessible to everyone today, all thanks to soaking tub manufacturers.
The fact is that these soaking tubs are far more premium and superior to conventional bathtubs. All thanks to the integrated whirlpool system, soaking tubs provide an unbeatable deep-soaking and relaxing experience. That's what we refer to as the best of both worlds.
And, if you choose natural stone, such as marble or granite soaking tub, the unit will enhance the aesthetic appeal of your entire bathroom interior. With a natural stone tub, you can add a luxury touch to your otherwise plain and dull bathroom space.
How much does a Japanese soaking tub cost?
A Japanese soaking tub often varies in price range from around $5,000 to $10,000 or even more. The cost usually varies as per the choice of material, such as natural stone, installation cost, manufacturer's cost, etc.
If you choose a natural stone with rare availability, it's certainly going to cost you more than an engineered or some other cheap material. However, only a premium quality natural stone is likely to offer you the best aesthetic and immersive experience.
Moreover, if you customize your tub, it may also increase its cost. So, you must consult the manufacturer about the costs associated with the installation and customization of your soaking tub. Also, see whether they offer a guarantee on a soaking tub.
Japanese soaking tub and where to buy in United States
For Zen enthusiasts, a Japanese soaking tub must be of premium quality. To get such high-quality tubs, you have to look for an experienced and reputed soaking tub manufacturer online or near you. Classy Bath offers you high-quality natural stone soaking tubs with a bench seat for maximum bathing comfort and relaxation.
How large is a Japanese soaking tub?
The dimensions of a Japanese soaking tub often vary from product to product. But these are usually 27-inch deep to enable bathers to soak completely in the water while seated. These tubs are often available in round or square shapes, occasionally oval or rectangular - but their diameter is not more than 4.5-feet. Most are even smaller than that, depending on the user's body shape.
If we talk about its length, the soaking tubs often range from 54-inch to 90-inch in length and their widths may vary from 19-inch (slim) to 76-inch (oversized). it all depends on how you want your soaking tub to be. Since soaking tubs are available in various sizes, configurations, and mounts, they can virtually fit every bathroom.
What size Japanese soaking tub should I buy?
As mentioned above, the dimensions of a Japanese soaking tub vary from model to model. Typically, they are a minimum of 27-inches deep to let users immerse completely when seated. The size of a Japanese soaking tub for your bathroom usually depends on the available space in your bathing room. If you have a small bathroom, then choose a smaller size tub and vice-versa. The size of a tub also depends on the length of a user. The shorter people can easily fit in a small-sized tub, however, a taller bather needs more space for relaxation. So, consult your manufacturer before deciding which tub size to choose for your bathroom.
How deep is a Japanese soaking tub?
Soaking tubs are intended for long, comfy soaks. So, they have to be deeper than the standard bathtubs. For determining the water depth of a soaking tub, you have to measure the tub from the bottom to the overflow drain. Usually, a standard soaking tub is 27-inches deep. But the depth can be increased if a user is taller and need more space to sit comfortably.
If a user has any physical limitation, you can go for a shallower tub or install a set of steps for safer and easier access.
How much space is needed for a Japanese soaking tub?
Generally, you don't require much space for a Japanese soaking tub - as it can fit even in the smallest bathroom spaces. But makes sure to have a minimum 4-inch of space between the bathroom wall and the tub on all sides. You also have to measure all hallways, doorways, stairways, etc. to ensure that the tub is easy to pass through.
This freestanding bathtub is trending nowadays. So, you can consider it for your bathroom if you desire of enjoying a rejuvenated soaking experience.
Where to buy a Japanese soaking tub?
Begin with your internet searches for soaking tubs. it is best to look for a manufacturer or a contractor with immense bathroom experience. You can consider Classy Bath, as they offer a plethora of soaking tub and other bathtub options, depending on the preference and lifestyle of their customer.
You can discuss your vision with them and listen to them patiently while they explain what works and what not. They also help you choose the right plumbing, ventilation supply, electrical work, decorative work, and more. So, you can decide as per your taste and budget.
Classy Bath is your one-stop-shop for creating a luxury and chic bathroom.