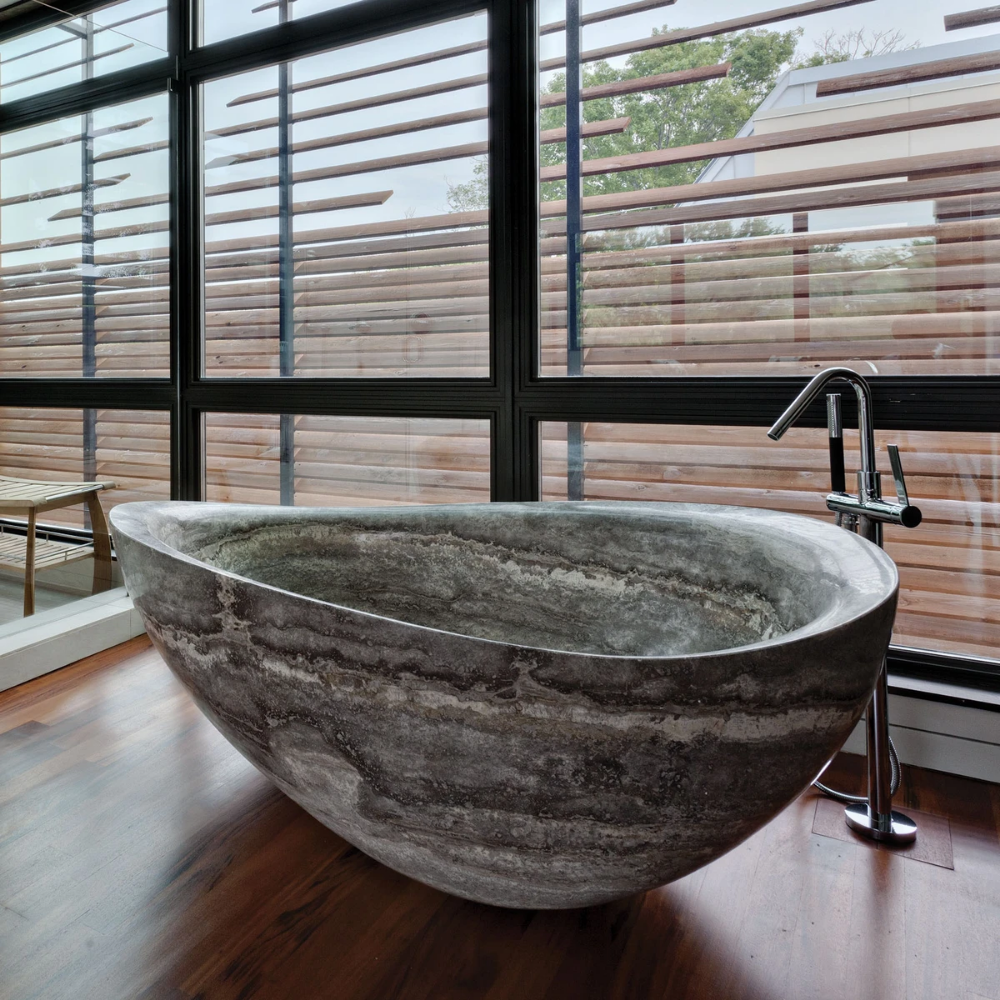 Have a spacious bathroom? Why don't you give it a luxurious spa-like makeover? One instance update that can give an opulent feel to your bathroom is a luxury bathtub. A bathtub is a great way to add a focal point into your bathroom while getting yourself a medium to relax and unwind after a tiring day at work.
Whether you choose a light or dark design, a natural stone bathtub is an interesting element to boost the appearance of your bathroom interior. However, you have to maintain minimalism around so that your tub remains the highlight of your bathing space.
One of the top contemporary ways to highlight your interior is with natural and eco-friendly materials. With extraordinary qualities, a wide range of design options, and versatile applications, a natural stone bathtub can add a premium touch to your bathroom interior. This trend is influenced by the eternal beauty and elegance of Mother Nature, finding the perfect balance between modern technology and traditional values.
What is the best material for a bathtub?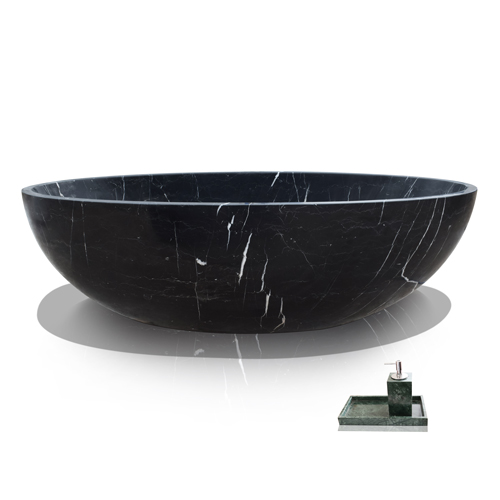 (Check out: Nero Marquina Modern Black Marble Bath)
While there are many materials available for a bathtub, no other material can beat the durability and versatility of a natural stone. Natural stone, like marble, granite, or sandstone, is the best material for a bathtub due to many reasons, such as:
Stone retain water heat for a longer duration.
Stone lasts hundreds or thousands of years.
A polished stone surface is very easy to maintain and clean.
Therefore, it is easy to maintain a natural stone bathtub. Even if there is minor damage or scratch, you can get it hand-polished to make its surface new again.
Marble is one of the timeless options for a bathtub, due to its natural veins and soothing light color that adds subtle effect to the given interior. If you select marble for your bathroom, you need to look for the highest grade material with less veining and inclusions. It is because more veining composition means more vulnerability to moisture damage.
More veining is found in lower grades of marble. Therefore, it is best to look for premium-grade marble to ensure maximum durability and strength. Moreover, you have to consider proper sealing to preserver the natural beauty of marble for a longer period.
How Natural Stone Bathtubs Are Made?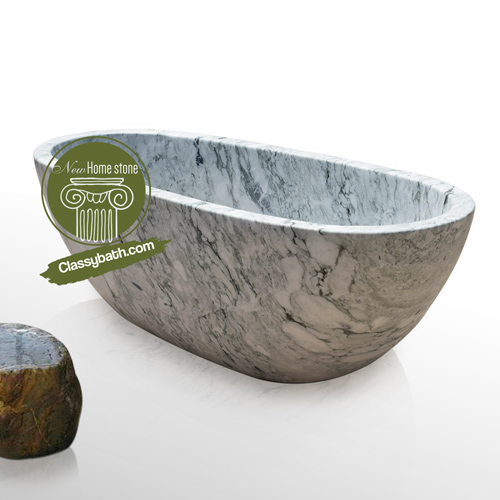 (Check out: Modern Italian White Carrara Marble Bathtub)
There is a very minimal change in the quarrying process of natural stones and the way you shape them into bathtubs. However, the process is similar for all-natural stones - be it marble, granite, travertine, or sandstone.
Natural stone is generally quarried from any commercial mountainous site in a remote region. Special equipment is required for drilling holes in the stone. Through the holes, a diamond wire cable can run. Plus, motorized equipment is required for drawing cutting cables via the natural stone. It is exactly how a chainsaw cuts wood until a large chunk or block is separated from the mountain.
Furthermore, the large block of stone is cut into small pieces. Each piece weighs up to a few thousand pounds. It is further lifted with heavy cranes and transported on huge trucks to cutting yards. At the yards, the stone blocks are separated into slabs with a gang saw with many cutting blades. Later, the cut slabs are shaped into elegant bathtubs.
Depending on your individual preference and bathroom interior, you can choose what bathtub shape and design you want for your elegant powder room.
Now that you are aware of the way natural stones are sculpted into bathtubs, let's learn how to choose the right bathtub for your home.
How to choose a bathtub for your home?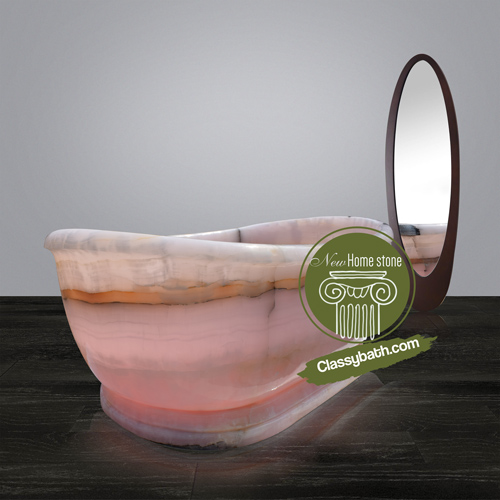 (Check out: Contemporary luxury rose quartz bathtub)
Here are a few important things that you need to consider when choosing a bathtub for your home:
1. Know the Material
You have to know the material first when selecting a bathtub. It is because if you are aware of the material, you'd be able to take care of it in the most appropriate way possible. For instance, marble is a gorgeous and famous material of choice for bathtubs. But homeowners must be aware that it needs to be properly sealed before using it in the shower. However, premium-grade marble with proper sealing can last a lifetime or beyond.
Instead of lighter stone for bathtub, you can go for darker stone - as a dark stone is known to have a tighter molecular structure that's less likely to form stains. There are various exceptions, however. So, it is best to consult the expert fabricator or manufacturer to help you choose the suitable material for your bathtub.
Another good material of choice for your natural stone bathtub is granite. Most granite stones are easier to maintain. It is because they don't react to alcohol, acid, and ammonia. However, acid can react to marble and travertine and etches their surface. So, you need to avoid acid content in cleaning agents when maintaining your marble and travertine materials.
You just have to be careful with certain objects and chemicals while cleaning. If you manage to do so, your natural bathtub will last for many years without any need to repair or change.
2. Cost of Bathtub
The cost of a natural stone bathtub depends on the quality of the material and selected style. Generally, smaller bathtubs are cheaper compared to larger ones. But it doesn't mean that there is any quality difference between the two sizes. The material quality is best in both cases but the prices vary as per the size.
Other factors that increase the cost of bathtubs are installation cost, price of material, labour cost, and more. It is best to consult the manufacturer or fabricator to know the exact cost of your regular or custom bathtub before ordering.
3. Design of Bathroom
For using stone, like marble or granite, for bathtubs, you need to know the design of your bathroom. Each material has different attributes, like stain resistance, durability, versatility, design flexibility, and more. Depending on the design and atmospheric condition of your bathroom, you can choose the right material for your bathtub.
Even the design of your bathroom helps you understand if your selected slab can merge and stand out from the rest of the area. You even need to know the types of bathtubs that you can pick and their benefits in the given area.
4. Know How to Clean Your Bathtub
No matter what natural stone you select, you have to maintain it for sure. When it comes to cleaning the natural stone bathtub, it is best to keep everything simple. The soapy cleaners can build up on the surface and attract more dirt. On the other hand, hard cleaners and vinegar can damage the stone.
For avoiding such issues, it is best to use a pH-neutral cleaner. Even a few quick precautions can keep stone surfaces free from dirt while maintaining their refreshing look. To avoid watermarks on stone surfaces, you can use a squeegee on the bathtub after use. Also, let the bathroom air dry properly by keeping the door open. It will remove moisture from the bathroom whole keeping your bathtub away from watermarks and stains.
5. Know Maintenance
When choosing a natural stone bathtub, you need to be aware of its maintenance. The natural stone needs sealing when used in bathrooms you use regularly. It is recommended to use a sealer annually to repel water instead of absorbing it on the surface. It will help your surface to remain free from watermarks and stains.
When sealing a natural stone, you need to follow the instructions of the manufacturer. Or hire a restoration or stone professional/specialist to help you seal the surface in the right way.
Once you're aware of how to maintain the bathtub carefully, you can ensure to add more years to it. It is best to ask the experts about the maintenance of a natural stone tub. With proper care and maintenance, you can easily make your bathtub last for many years.
6. Lifestyle
One important consideration when choosing a new bathtub is to see your lifestyle. You have to consider all the requirements of the people who will be using it. For instance, if you choose a bathtub that's longer and enables longer soak sessions, it can be problematic to younger kids. The same rules go for the elderly.
For the elderly, the stone Japanese style or round-shaped bathtubs are more convenient. If you have more money to invest, you can consider custom bathtubs with seats. It allows an occupant to sit comfortably while soaking. It also prevents slipping as you enter or get out of the tub. Also, consider the height of the user and any physical shortcoming when selecting a bathtub.
What are the pros of choosing a natural stone bathtub?
(Check out: Custom design black marble bath)
Here are some important benefits of choosing a natural stone bathtub:
1. Long-lasting
The beauty and durability of natural stone make it long-lasting. A natural stone tub is also strong and highly durable. So, it won't crack or chip easily like an acrylic bathtub. If you accidentally damage it, it can be repaired with hand machine polishing. While the colour of the natural stone bathtub may dull over time, it can be taken care of with proper maintenance.
2. Retain Water Heat
Contrary to your belief that natural stone is cold, it retains the heat of the water. It means that your warm bath will last for a longer duration compared to other bathtub materials. It is because natural stone prevents heat from escaping easily.
3. Easy to Repair
There are times when you may scratch the surface of your natural stone bathtub. But there's no need to stress over, as it is easy to repair. You can call for a repair fabricator or expert for taking care of the minor damage on the surface of your natural stone bathtub.
You may even find a hand polishing machine to polish marble surfaces yourself (if you have the necessary DIY skills). When you have to clean the surface, natural stone bathtubs require more maintenance compared to other tubs. But cleaning won't take so much effort and time.
If you maintain a habit of regular cleaning, it is easier to keep your stone bathtub in the best condition.
4. Design Options
There are various design options available when it comes to natural stones. From veining to speckles, there are various natural patterns found on the surface of natural stones. However, you can even shape them into any desired shape of your choice.
While the standard shape of natural stone bathtubs is oval, you can even get them in various other shapes, like square, rectangular, etc. The oval shape, however, is easier to slip in and get soaked in water without being too deep.
You can even go for a square-shaped bathtub for a more cutting edge. Nonetheless, there are some more unique design options, like slippers and boat bathtubs. Moreover, these outstanding bathtubs are more likely to dazzle for so many years.
5. Comfort
The natural stone bathtub surface is very smooth. Hence, quite comfortable to create a lasting impression. The famous natural stone bathtub is designed with a smooth interior to ensure the user gets maximum comfort on soaking in it. The surface of a natural stone tub often feels comforting and relaxing against the skin. So, you won't have to worry about any discomfort or pain when lying in the stone tub.
6. Sturdiness
Made of marble, travertine, or granite, natural stone bathtubs are very strong and durable. Due to this, these tubs are likely to last for so many years without chipping or cracking. With fiberglass and porcelain tubs, you have to be careful not to scratch their paint. But scratches and stains are not an issue with a natural stone bathtub.
Where to purchase a natural stone bathtub?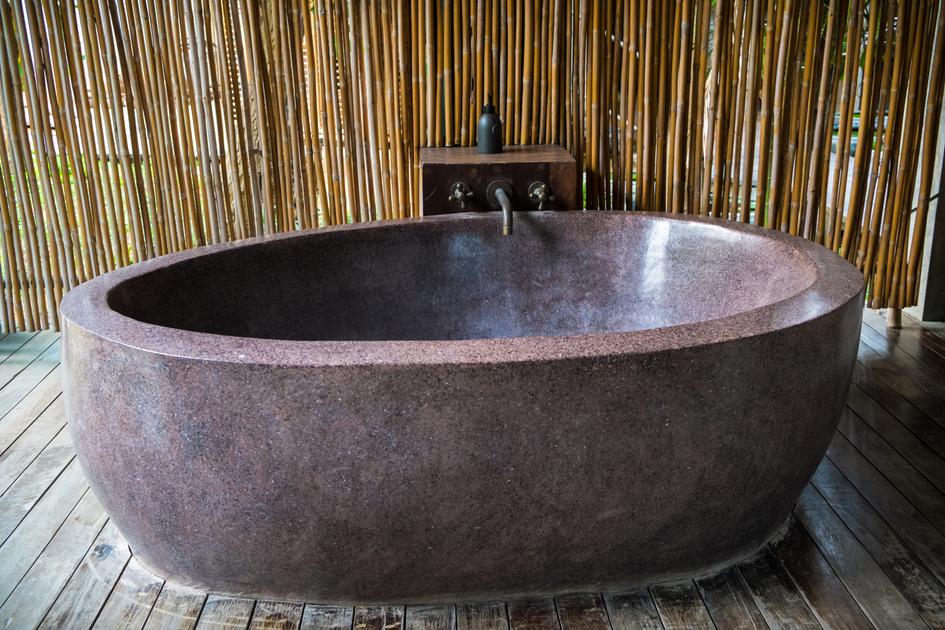 or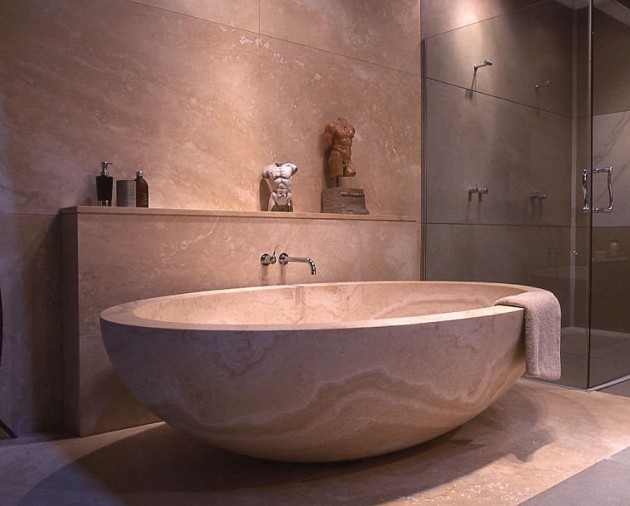 Today, you can find a natural stone bathtub anywhere near you or online. However, make sure to purchase it from a reputed and experienced stone bathtub manufacturer or supplier. Only professional and renowned bathtub manufacturers, like Classy Bath, are likely to offer you premium bathtubs while taking care of all your installation needs. Do consult them for more details and even ordering a custom bathtub as per your requirement. They'll also help you to choose a bathtub according to the space you have. For more Customized Marble Bathtub please contact us by email.