Top 10 Rectangular bathtub made of natural stone
While there are so many bathtubs made from different materials, rectangular natural stone bathtubs are always known to have a lasting impression. Whether you choose marble, limestone, granite, or any other natural stone, rectangular baths give a whole new purpose to the given space. From the new texture, colour, and new experiences, natural stones give you so many options to choose from. They are not only a bespoke piece in your bathroom, but also look fabulous in a new or freshly renovated bathroom. Here we have listed the top 10 rectangular bathtubs made of natural stone to add classy and sophisticated charm to your bathroom.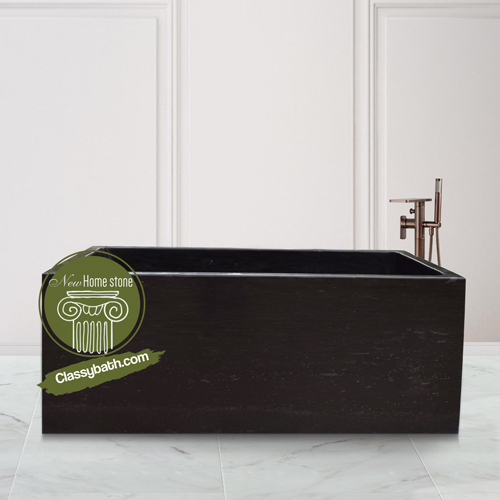 Made of black limestone, this gorgeous rectangular modern black rectangular bath features minute white speckles. Hence, it brings a charming and comforting vibe into your bathroom. It not only looks super luxe but also capable of adding an exquisite touch to any bathroom space. It will look amazing in an all-black or greyish bathroom interior. Plus, its relaxing shape lets you have a great soaking experience. The overall beauty and finish of this natural stone bath can quickly elevate the aesthetic appeal of any bathroom interior - be it traditional or contemporary.
2.ISHIBURO | Bathtub By Salvatori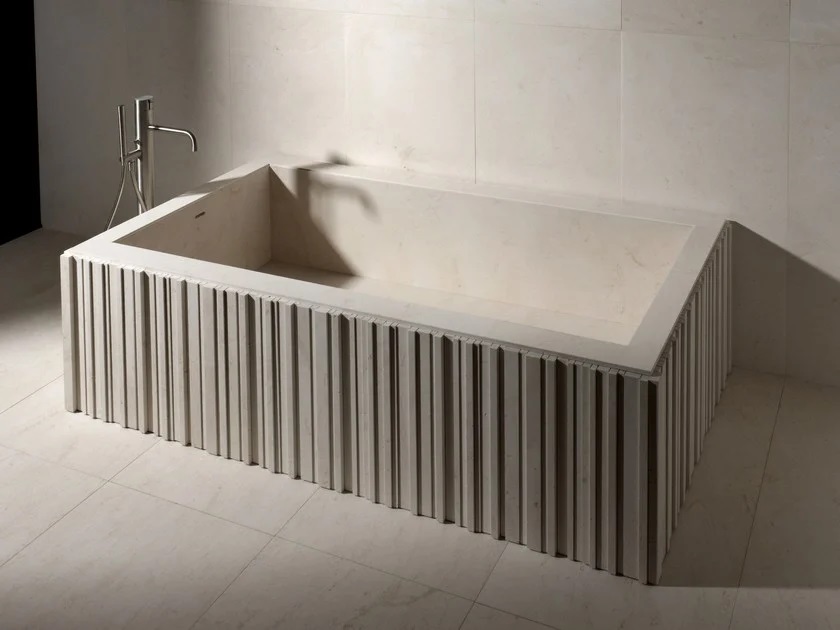 Being immersed in the warmth of water inside a stone bathtub can bring instinctive relaxation and comfort to humans. But when you add this stunning bathtub with a subtle vertical design in your bathroom, your interior will be flooded with exquisiteness and sophistication. Available in Bianco Carrara, Crema d'Orcia, Pietra d'Avola, and Silk Georgette, you can choose this bath in any stone of your choice. Furthermore, its gorgeous design is likely to create a harmonious and peaceful bathroom experience. It will look amazing in a neutral-colored bathroom in grey, white, or beige interior.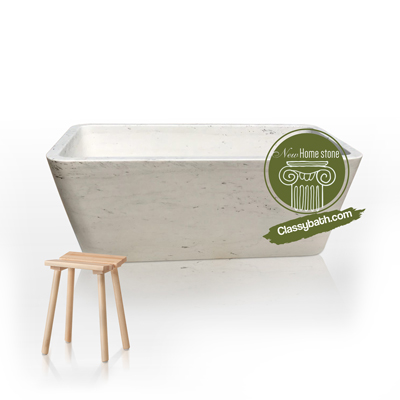 Want to add a contemporary touch to your bathroom? You can consider adding this simple yet stunning bathtub for a luxury overall interior design. This rectangular white marble bathtub has a simple yet classy design. Made from Beijing white marble, this modern marble bathtub is a great addition to any contemporary bathroom. Its plain white and smooth surface with subtle patterns make it an outstanding piece. This makes it a wonderful bathroom addition for people who like simple and classy pieces. The white colour makes it even more elegant and would blend effortlessly in sorts of bathroom decors.
4. NativeStone 66" Free Standing Stone Composite Soaking Tub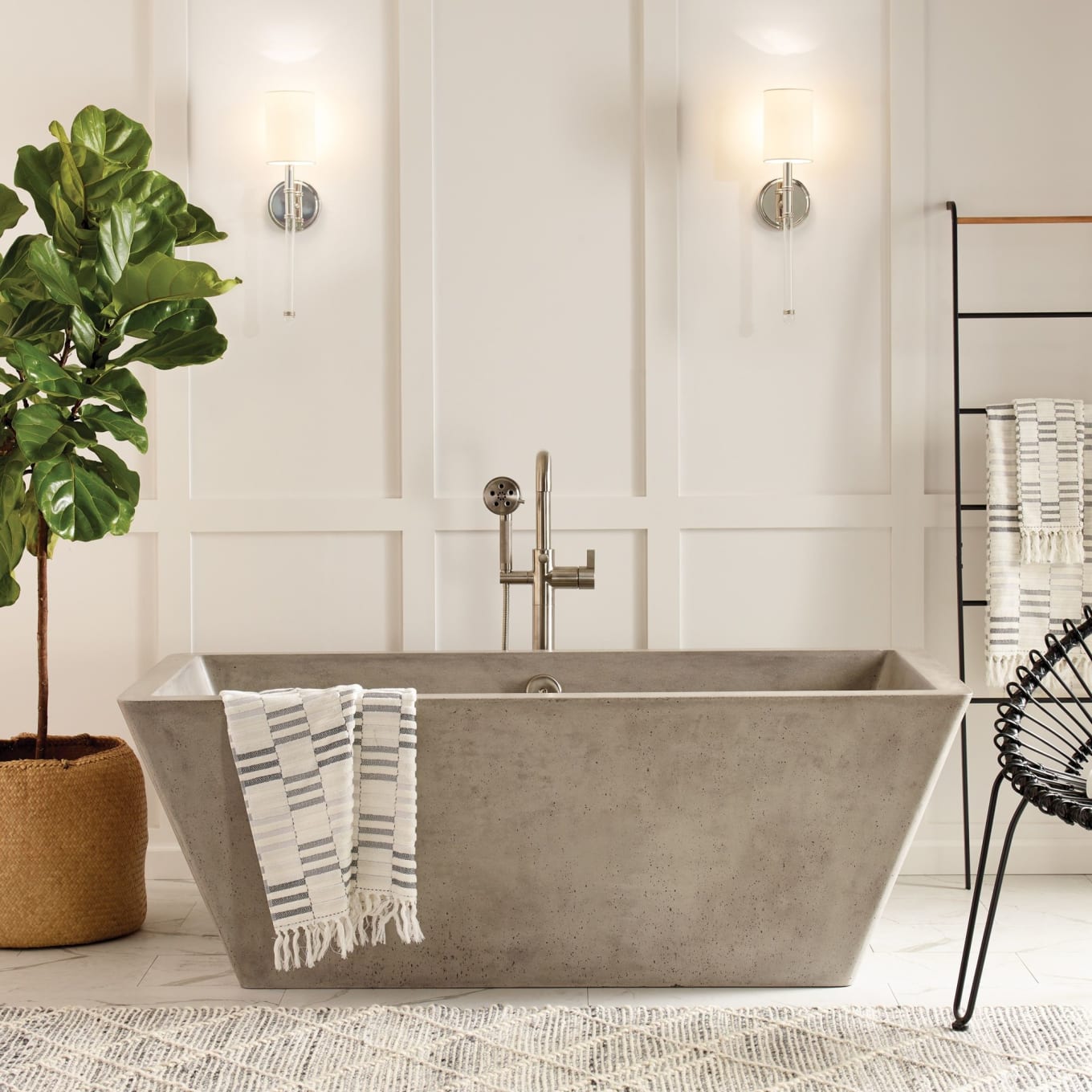 Enhance your bathroom's overall aesthetic appeal with this freestanding stone composite bathtub. It is one of those rectangular tubs that are designed to radiate beauty with its organic aesthetics and clean lines that make it a stunning highlight in modern farmhouse design. The thick walls of this bathtub offer insulation for keeping water warm for a long duration. Meanwhile, its slanted sides offer gentle support for added comfort. It is also coated with a two-part sealer for preventing scratching, staining, and cracking. Artisan crafted with a mixture of concrete and natural jute fiber, this sustainable bathtub is likely to add a statement to any luxury space.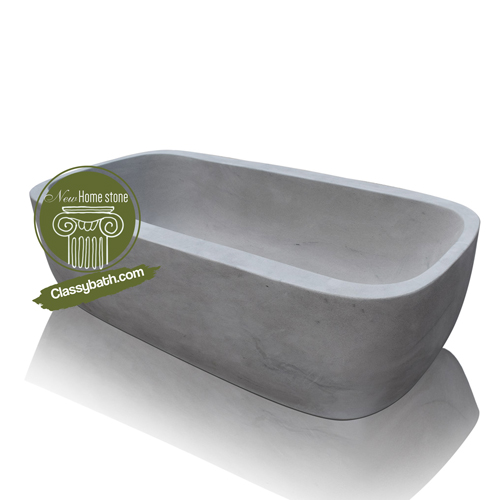 For a cozy, comforting, and cocooning feel, this modern grey stone bathtub is a perfect addition to a bathroom. The subtle lines of this modern, freestanding grey stone bathtub help in soothing your soul while calming the mind. It is hand-carved from grey sandstone and designed in the shape of a smooth bathtub with a comforting and good-looking design appeal. The greyish tone of this marble bathtub offers elegance to instantly blend in with the existing decor of any bathroom interior.
If you want to add sturdiness and exquisiteness of stone into your abode, it is the best sandstone bathtub for you.
6. Salvatori onsen bathtub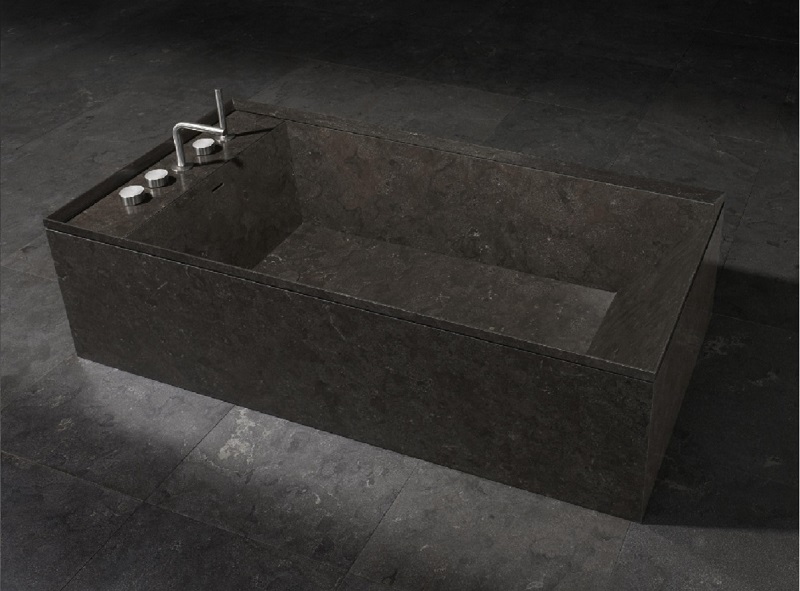 Created by Rodolfo Dordoni for Salvatori, the Onsen bathtub is a simple and elegant statement piece with clean lines and angles. Its name is derived from the Japanese word for hot springs. And, it's truly about offering you the best soaking experience like in the hot springs. One of the most famous ways to use this high-end bathtub in your bathroom is to accentuate it with contrasting tiles in lighter shades (like beige or grey) or white colour. Or, simply put it in an all-black or dark grey-themed bathroom for a dramatic touch. No matter what style you prefer, this bath is likely to offer it as per your choice.
8. Rectangular Dark Emperador Marble Bathtub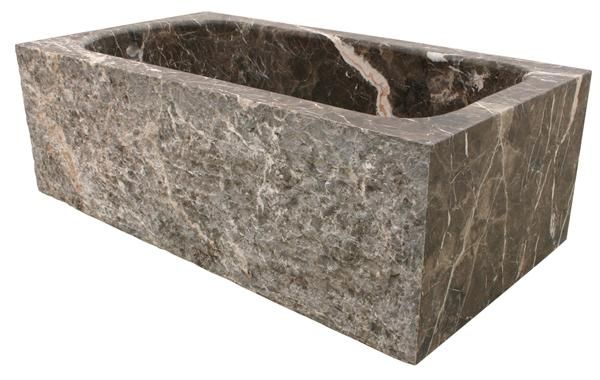 Add this rectangular dark Emperador marble bathtub into your bathroom for a royal feel. Made from rough finished dark Emperador marble, this bathtub gives a unique touch to It can also be polished or carved, depending on a user's preference. This way, it will look more refined and smooth. Or, just keep its exterior rough for a more sturdy and natural stone finish. You can get this stone bathtub customised in any stone i.e. limestone, marble, sandstone, or travertine. Each stone has its unique characteristics, making each tub exquisite and extravagant in its own style.
9. Rose Quartz Bathtub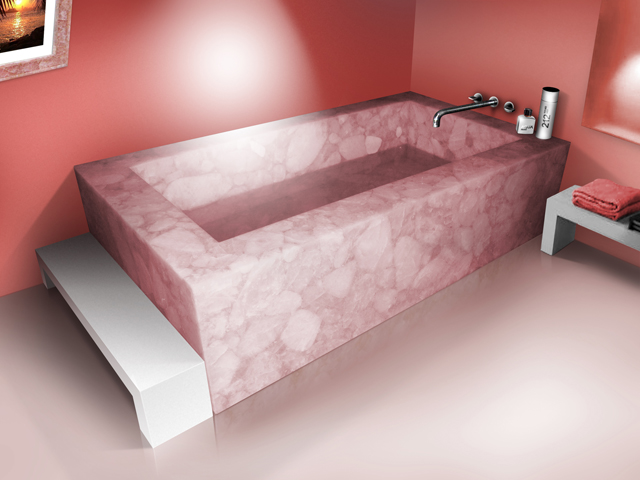 This Rose Quartz is a perfect addition to a contemporary bathroom with an all-white or light grey theme. You will get it as one piece of Rose Quartz bathtub, as what is photographed here. The stunning rose quartz material is known for its expansive design and gorgeousness. However, the rectangular soaking tub can boast a rough surface to highlight its authentic beauty. But the interior of the tub should be smooth for ensuring maximum comfort and relaxation. This bathtub design is the right masterpiece for any luxury bathroom decor. Meanwhile, it can be customized to meet all your personal preferences.
10. Carrara Marble Bathtub for Luxury Bathrooms - Onda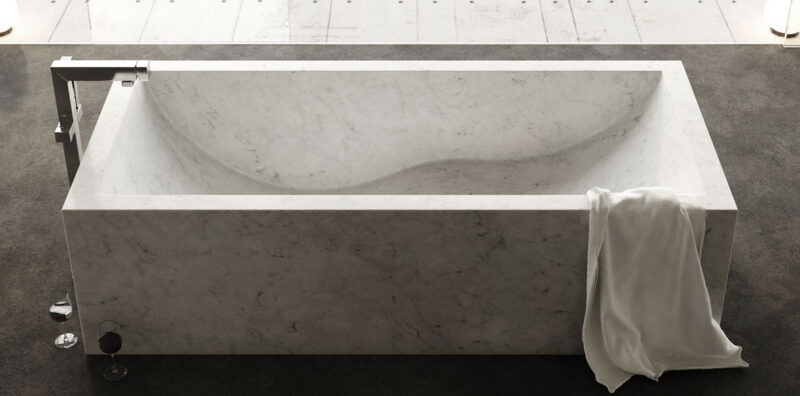 This luxury rectangular Carrara marble bathtub is influenced by the relaxing and gentle waves of the Mediterranean sea, which often breaks on the Carrara beach. As you step into this tub, you'll have the same feeling of relaxing on a beach, lulled by calming waves of the sea. This marble bathtub in rectangular design can also be shape square or any other form, depending on your preference. However, we like the subtle appeal of this stone rectangular bathtub. Plus, its curved interior enables you to have a relaxing dip while reading a book, having wine, or simply unwinding after a long day.
FAQs

What is the standard bathtub size?
Usually, the standard bathtub size is around 60-inches long, 30-inches wide, and 18-inches deep. This measurement is for a large bathtub. But if you're looking for small alcove tubes for a small bathroom, the standard size is usually from 40 to 55-inches in length. So, you can decide for yourself or as per the available space in your bathroom. Get in touch with Classy Bath to get the right measurement of your custom bathtub. They are the expert and know which stone type and bathtub size will beautify your space to look its best.



What bathtub shape is the best?
Usually, oval and rectangular bathtub tub shapes are considered perfectly striking and comfortable. It is because these shapes are easy to incorporate into any bathroom design and layout. Their versatile shape is easy to install in various ways to meet any bathroom style - be it traditional or contemporary. However, the size must be decided as per the available area in your bathroom.



What is the standard length of a rectangular bathtub?
The standard length of any rectangular bathtub is around 60 inches long, 30-32 inches wide, and approx. 14-16 inches deep. When looking for a soaking rectangular tub, you need a tub that measures somewhere between 60 to 72 inches long. For people over six feet tall, you might look for an oversized bathtub for maximum comfort.



How do I choose a bathtub size?
Typically, if your bathroom can support it and you have more space, consider a large tub. But for a requisite space, it is best to consider corner and freestanding bathtubs. So, you can choose any style and size as per the available space in your bathroom. But if your bathroom has limited space, you can drop-in, alcove, and soaking tub might be a more suitable option for you.
After reading in detail about both the materials and the differences between them, you can yourself conclude the best material for your bathroom space.