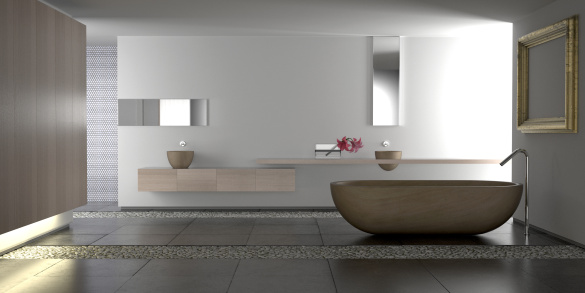 (Check out: Modern Rectangular Marble Tubs)
A stone bathtub is a great addition to the bathroom for a luxury and stylish makeover. The stone bathtubs are not just spectacular and stylish, but they even provide various benefits. One of the best things about stone bathtubs is that they can retain heat longer than other regular tubs.
Contrary to certain beliefs, stone bathtubs are very easy to maintain and care for. And, the best part is that when you add a stone bathtub to your bathroom, it instantly adds a touch of opulence and grandeur to a luxe hotel.
When it comes to choosing the right stone tub for your space, there are various options from round shapes to rectangular and soaking tubs. However, selecting an accurate bathtub depends on several factors, including the aesthetic you desire.
Here are some major factors to keep in mind when choosing the right natural stone bathtub for your home:
Think about the comfort you need
Are you someone who enjoys a long, hot bathing experience? If so, the major consideration must be the comfort and experience you desire while taking a bath. When choosing a specific bathtub shape and size, you have to think of the comfort you want.
Typically, the size and shape of a tub influence how you'd fit into it. If your tub is short, you cannot fully recline and enjoy your bathing experience. On the other hand, if it is too long for you, you may miss resting your feet on the front.
Plus, the depth of a tub impacts the amount of water you can fill in. Some people like a completely submerged experience, others like a partially submerged feel. So, you can choose your bathtub according to what you like. Also, consider how good are its insulation walls, as it determines for how long your bath would remain hot.
Everyone has their distinct preferences when it comes to their bathing experience. So, consider what you and your family members truly desire in terms of comfort and rejuvenation. Based on that, you can choose an ideal bathtub that meets your needs.
Consider the available bathroom space
Your bathroom space is another major factor to determine when choosing a stone bathtub. After all, you need a bathtub that's just perfect for the available space. Having a too small tub would look very odd in a large bathroom. Meanwhile, a large tub in a small bathroom will take up too much space. Therefore, you need just an appropriate-sized tub for your needs.
Generally, a standard bathtub with interior measurements of around five feet long, 14-16-inches high, and 30-inches wide is ideal. But never think that your replaced tub has the standard measurements. You have to take out some time yourself to measure the bathroom space and then measure the selected bathtub to ensure reasonable installation.
When building a new bathroom or remodeling one, you need to be particular about the size. Whether you prefer long tubs or want a soaking tub for your small bathroom, you need to consider your preference first. After that, spend some time on research and browsing various-sized bathtubs. This way, you are likely to make the most sense of your bathing space while designing it.
Choose Color That Matches Your Interior
Another vital factor to consider when choosing a natural stone bathtub is to find a tub that matches the color and style of the bathroom interior. It would provide a modern look to your bathroom and also complement the interior more than any random tub.
You also need to know that extraordinary or unusual bathtubs are quite expensive than standard tubs. So, keep the design choice in mind along with your budget to make a wise decision.
Consider Bathtub Styles
When it's about choosing stylish bathtubs, there are various tub styles to consider for distinct bathroom designs. After you are clear about the material and available bathroom space, you can decide which specific bathtub style you want for your bathing area.
Here are a few common natural stone bathtub styles that you can choose to enhance the visual appeal and style of your bathroom:
Freestanding Bathtubs
(Check out: Freestanding Bathtubs)
Freestanding bathtubs are very popular tubs. It is because these are very easy to install and fit into any space without the need for connecting walls. They cater as the centerpieces of any bathroom interior while adding a vibrant touch to the given space
If you want to install a stone bathtub in your bathroom, consider adding this natural rock tub by Marblebee. It boasts a polished interior and raw exterior. Since it's a freestanding piece, you can put it in any desired space in your home. Plus, you also have the option to get it customized as per your needs.
Pedestal Stone Bathtub
(Check out: Pedestal Stone Bathtub)
Want to give a classic touch to your bathroom interior? Consider adding a pedestal stone bathtub to your bathroom. It is likely to add classic yet stylish flair to the given space. Made from white marble, this rectangle bathtub with a rim has a polished exterior and interior. It would look amazing in an all-white bathroom or neutral interior. Since it stands on a pedestal, you can place it even in the center of your bathing room. After all, it does not need any wall support to stand upright.
Oval Bathtub
Contrary to the classic pedestal bathtub, oval bathtubs appear more contemporary. You may consider adding this natural sandstone block with a river vein effect to your beige or off-white bathroom. The ends of this tub are round to ensure you lay down comfortably without stressing your back. Plus, the veining pattern of the tub will add dramatic impact to your otherwise plain bathroom interior.
Black Stone Bathtub
(Check out: Black Stone Bathtub)
For those who desire something different, this black stone bathtub is a perfect addition to the bathroom. It boasts a matte surface inside and a chiseled surface outside. The chiseled surface is likely to add a striking visual appeal to any simple interior.
Since the interior is smooth and curved on both ends, it would be comfortable for the user to relax for a long duration. Its shape is like an oval bathtub but the exterior makes it stand apart from the other tubs available on the market
Stone Bathtub With Ridges on Outside
(Check out: Stone Bathtub With Ridges on Outside)
Here is another stylish contemporary black stone bathtub, which boasts a stylish pattern of ridges that appears like a candy cup. Made from Nero Marquina marble, this bathtub's shape is somewhat classic but its exterior makes it exquisite in a unique way.
Shallow Bathtub
If you don't prefer deep bathtub designs, you can pick this Nero Marquina shallow stone bath for your home. It boasts a plain black backdrop with a white scattered veining effect. The veining pattern of this shallow tub is likely to add an aesthetic touch to your black bathroom design. Plus, its pattern will make this tub a statement piece in the monochromatic bathroom interior.
Papillon Bathtub
Similar to an oval bathtub, this black stone tub with a papillon shape has a spacious interior to lay down comfortably. Plus, the edges of this bathtub are unevenly curvy for offering a comforting relaxing space to the user. It's ideal for more relaxation and therapy sessions at home. Furthermore, its striking plain design is perfect to stand out no matter where it's installed.
Round Bathtub
This beige sandstone round small soaker bathtub is suitable for a small bathroom interior. It boasts breathtaking natural stone patterns and variations. If you don't have a spacious bathroom, this particular piece is ideal to add the luxury of a bathtub in a small bathing space. Plus, its distinct patterns on the surface make it an exquisite piece from Marblebee's bathtub collection
Soaking/Japanese Style Bathtub
(Check out: Soaking/Japanese Style Bathtub)
A Japanese-style soaking bathtub is generally circular or oval. It is quite taller compared to standard bathtubs. This bathtub style is specifically for letting the user sit and soak comfortably. You can customize a Japanese-style soaking tub in any desired size as per your height and body structure. So, you can easily get it for a long dip.
Due to the smaller size of such natural stone soaking tubs, you can easily position them in your small apartment.
FAQS
Are stone bathtubs good?
A natural stone bathtub is superior to an acrylic bathtub.
Natural stone bathtubs can retain heat for up to ten times longer than acrylic bathtubs. It is because of their better heat retention and better longevity.
Since the walls of stone tubs are thicker, these are more insulated than other material tubs.
What is the most popular type of bathtub?
The rectangle and oval bathtubs are more popular types of the bathtub. The users have to install wall-mounted faucets for easy operation of these tubs. Their versatility and simplicity make them a highly popular choice among homeowners.
What is the difference between a soaking bathtub and a regular bathtub?
While both soaking tubs and regular bathtubs are available in various designs, the height of a Japanese-style soaking tub is 23-inches and the average height of a regular tub is 19-inches.
A soaking tub is great for better blood circulation, skin exfoliation, and better pain relief. On the other hand, a regular bathtub is just good for relaxation after a long day.
Many soaking tubs come with a rainfall showerhead or overhead shower to aid body massage. Even though faucets and showers add up to the therapeutic experience, this feature aids in more water consumption than a regular tub
Lately, soaking tubs are more popular than regular tubs due to their contemporary appearance and heightened relaxing and therapeutic experience.
What is the standard bathtub size?
Externally, standard bathtubs are typically 60 inches long, 14 to 16 inches high, and 30 inches wide. These are typically well-suited for moderate to large-sized bathrooms. However, you can even get them customized, as per your preferences.
What are Freestanding Bathtubs?
Unlike an alcove bathtub, which is enclosed by one, two, or three walls, a freestanding bathtub is open on all four sides. But similar to an alcove or built-in tub, a freestanding tub often sits directly on the bathroom floor without any feet or platform to support it.
How much space does a bathtub need?
According to the expert designers, the front space around a bathtub must be a minimum of 30-inches wide and 60-inches long. It enables users to move freely and safely while easily entering and exiting the bathtub.
Which stone is best for bathtubs?
Undoubtedly, one of the best bathtubs to create a strong style statement is one made of natural stone. These are incredibly opulent, frequently hand-carved, and genuine works of art. These baths are typically made of granite, travertine, marble, or sandstone.
How much does a stone bathtub cost?
On average, a stone bathtub would cost you between $1000 to $15,000 or even more. Generally, the price of a stone tub depends on the material users, size of the tub, installation cost, and other amenities of hardware you install. It is best to consult a professional bathtub manufacturer or brand that specializes in offering stone bathtubs. Only experienced and professional bathtub providers can give you an accurate cost estimate.
What is the most durable stone for bathtubs?
Natural stone bathtubs are the most durable and long-lasting bathtubs available on the market. Generally, stone tubs made of granite, marble, or travertine are highly strong and durable. It is because these are likely to last for several years without chipping or cracking.
What brand of stone bathtub is best?
Here are some top stone bathtub brands you need to consider:
Marblebee: It is one of the best natural stone bathtub retailers online. They have skilled craftsmen who hand carve every stone bath, using a natural block and form astonishing marble and other stone bathtubs.
Badeloft: Established in late 2009, Badeloft is another popular online retailer of Berlin-based bathroom boutiques.

Other well-known companies offering stylish and high-quality stone bathtubs are:

American Standard
Kohler
Jaquar
Sterling, etc.
How long does a stone bathtub last?
A stone bathtub may cost more than an acrylic one, but it's likely to last a longer duration. Generally, a stone bathtub can last up to 70 years or even more. However, you need to regularly maintain and care for your stone tub to ensure longevity.
Are stone bathtubs better than Iron bathtubs?
Yes, stone bathtubs are far better than iron bathtubs. It is because stone bathtubs last longer and don't corrode or rust like certain iron tubs. Another drawback of cast iron tubs is their incredibly immense weight. It does not make them ideal for many homes as their excessive weight may be difficult for some bathrooms to support.
Do stone bathtubs crack?
Generally, natural stone bathtubs are susceptible to thermal shock if exposed to excessive heat and cold simultaneously. Therefore, you need to try to prevent stone bathtubs from extreme heat and cold temperatures
Do stone baths retain heat?
Compared to an acrylic tub, a natural stone bathtub has better heat retention ability. Typically, stone bathtubs can retain heat up to ten times better compared to acrylic bathtubs.
Do stone bathtubs stain?
Yes, stone bathtubs can stain due to soap scum if you don't clean them properly. So, make sure to rinse and dry the surface of your natural stone bathtub. With simple regular care, it is easier to keep your bathtub's surface stain-free
Are stone bathtubs cold?
Although you would believe that natural stone is always cold, you might be surprised to learn that it retains heat. Natural stone prevents heat from escaping quickly, therefore a warm bath will remain the same for a longer duration than any other material.
What are stone-cast bathtubs?
Cast Stone bathtubs consist of solid material that's durable and easy to repair. The matte surface of this material may get scratches but are easy to repair with sanding.
For more tips on choosing bathtubs for your home check out the following blogs;
10 Different Types of Stone Textured Bathtub You Should Consider While Choosing Bathtub for Your Space
12 Best Bathtubs that provide gorgeous earthy appeal to bathrooms
10+ Best Different Stone Bathtub Styles That Will Rule in 2022
30 stone bath ideas for modern bathroom
20 most creative stone bathtubs
Natural stone bathtub pros and cons
How to choose a bathtub?