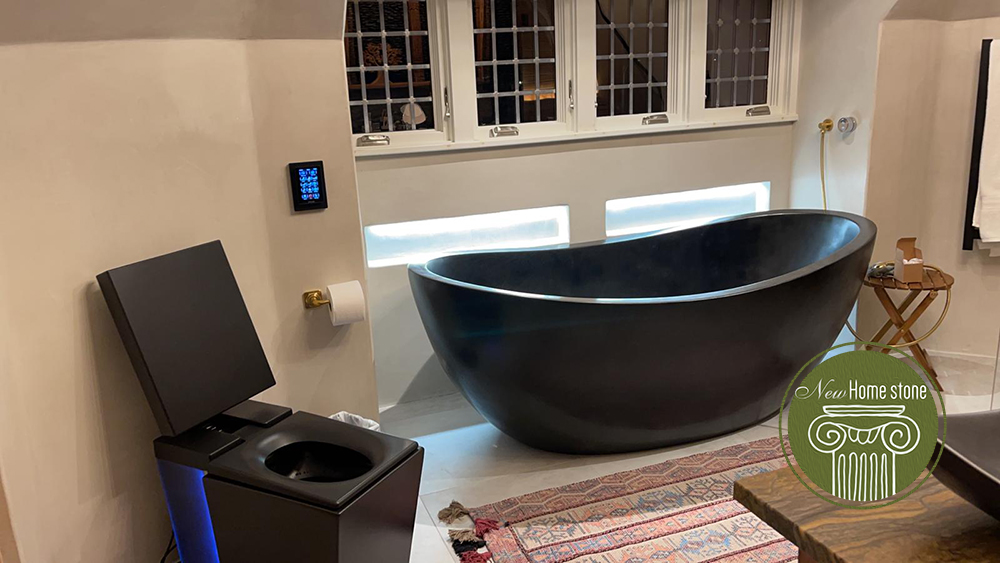 The best bathtub can transform your bathroom into a whole different space, which can offer you a relaxing, spa-like feel at the end of a tiring day at work. It can give the space a new look and add value to your property. A stunning tub can take a classic bathroom and transform it into a haven for you to unwind and make the biggest statement in your space.
However, finding a practical, comfortable and affordable bathtub that will also increase the aesthetics of your bathroom can be a huge pain. There are many bathtub options out there, with different designs, styles and materials. Depending on the preferred style, there are many options to make an impression.
From classic-style clawfoot tubs to massaging jetted bathtub choices, centuries of tub evolving present many options for a bathroom renovation. Stone bathtubs have come a long way from ancient civilizations, where people used natural stone to create spacious bathtubs of various designs. Bathtubs were an item of luxury, but now most people can afford these stunning bathroom elements.
To help you figure out what kind of bathtub and bathtub material will suit your bathroom layout, we have compiled a list of 10 stunning stone bathtub designs that will rule 2022 in style.
Gray Tones Will be Vogue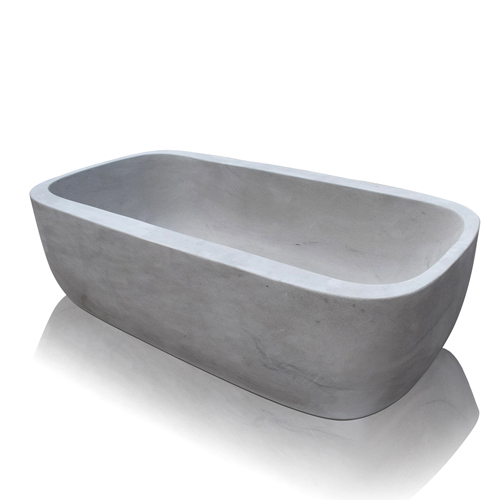 (Check out: Stone Bathtub Grey sandstone)
This contemporary gray sandstone bathtub is ideal for a cozy, cocooning feel that will help you relax and unwind after a long hard day at work. The freestanding bathtub features soft white lines on its dark gray body. Shaped like a half mollusk, the bathtub is hand-carved from natural gray sandstone, lending it an elegant look and stunning texture. Its beautiful design helps calm the mind and soothes the soul with a soaking, hot bath. It is a stylish bathtub, perfect for contemporary and modern homes. Moreover, it can be customized in any shape and size to better fit your available space and existing bathroom layout. Install this natural stone bathtub in your bathroom to give it a spa-like makeover, which will soothe your body, mind and soul.
White Marble Will Make Your Bathroom More Premium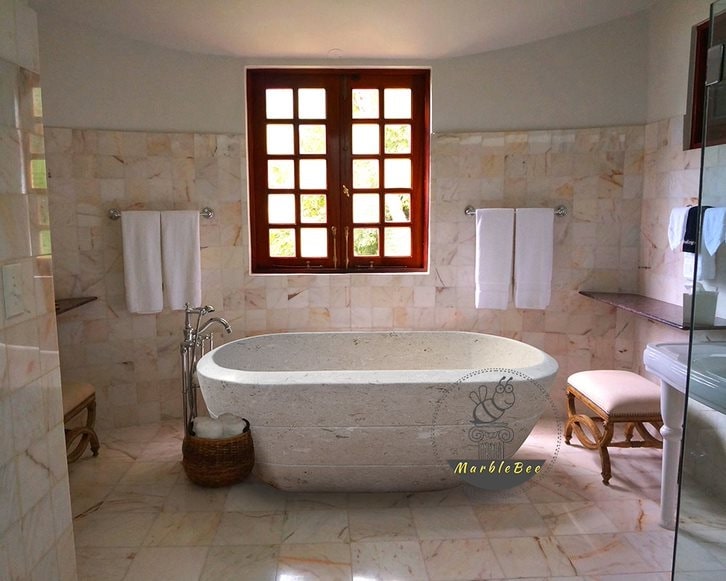 (Check out: Double slipper White Marble Bathtub)
Say whatever you will, but there is nothing more gorgeous like a delicately hand-carved white marble bathtub. You can place this anywhere in your bathroom to elevate the design quotient. The freestanding tub is deep and offers a wonderful soak. The stone tub has been hand-carved from natural stone blocks, which bestows a beautifully elusive texture and design to the bathtub. It has a round, soft edge that will make it easy to relax your head on as you enjoy your bath. Marble is one of the most durable and stunning natural stone materials that adds grace to any space. You can place this white marble tub near the bathroom window, in the middle of the more or near a wall. It can be custom-made in any shape and size to accommodate any modification requirements you may have.
Freestanding Claw-footed White Stone Tub Will Never Get Out Of Trend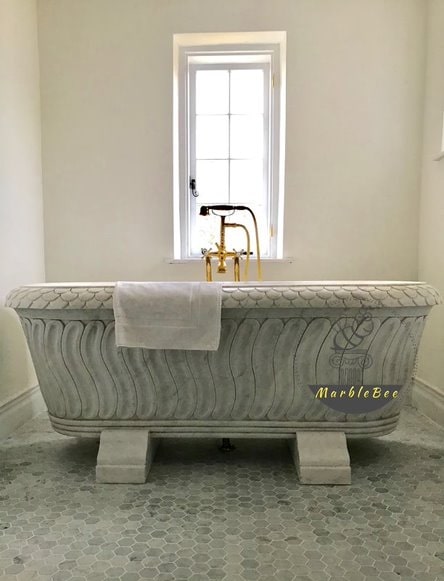 (Check out: Unique custom highhill shoe design bathtub)
The claw-foot bathtubs are a big rage and are likely to rule the New Year with an invigorating style. Take a gander at this freestanding claw-footed white stone tub that features carving all over its structure. It can be hand-carved from any natural stone material and add to the beauty of your space. The rim of the oval-shaped tub has a scaly design, while the rest features a wavy pattern. It stands on unique four feet that are quaintly different from typical claw-foot bathtubs. You can position this freestanding bathtub anywhere in your bathroom. It will be a perfect pick for any contemporary modern home, where it will not only increase the aesthetic appeal but will also increase the overall value of your property.
Gray and Oval Marble Bathtub In Combination Will Stay in Fad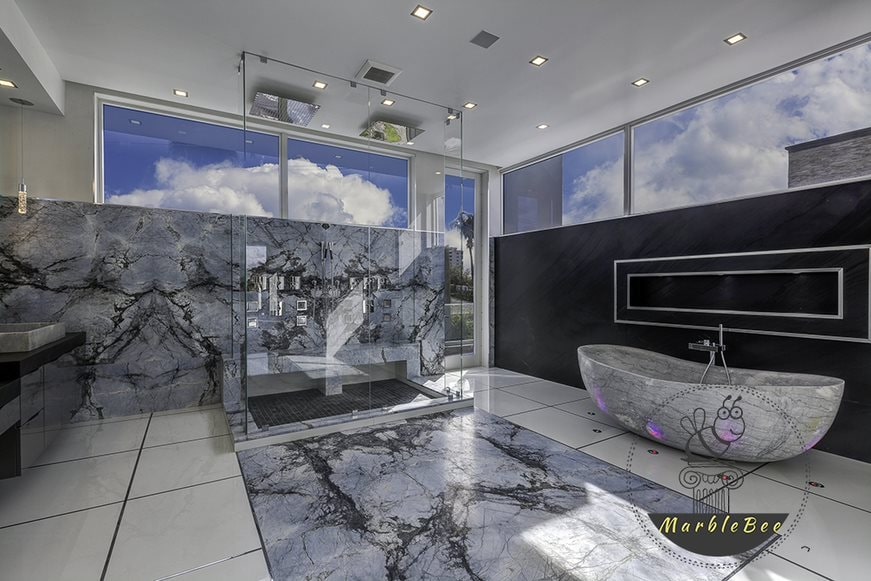 (Check out: Saturn Vein white Stone Bathtub)
This beautiful oval-shaped marble bathtub features subtle dark gray veining over its light gray surface. It has been hand-carved from natural marble blocks and has a shiny smooth, polished surface. You can place this freestanding tub anywhere in your bath space and make it a center of attraction. This luxury product will not only enhance the design of your entire bathroom but also add value to your overall property. It will become a sanctuary for you, where you will come to soak away your stress and worries of the world. It can also be custom-made in any shape and size to fit your space, without disturbing the existing design layout. There is also liberty to choose the natural stone material for your bathtub construction.
White Chiseled Round Stone Tub Will Be an Option for Nature Lovers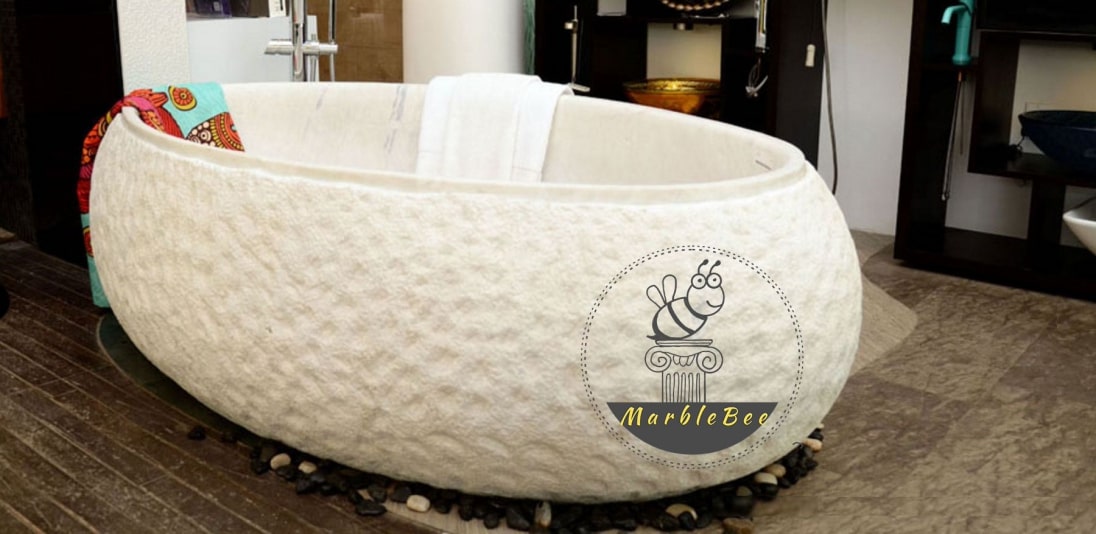 (Check out: Chiseled outside with polished inside round stone tub)
While a typical oval tub is beautiful and fine, there is something distinctly alluring about a round bathtub. Imagine soaking yourself up in a round-shaped bathtub, doesn't it feel like crawling into a warm cocoon? Feels amazing, doesn't it? Well, this white marble chiseled round tub has been designed to provide you with exactly that so you can leave you stress behind and enjoy a hot bath. This beautiful bathtub has been hand chiseled from natural stone blocks and can be a stunning addition to any modern and contemporary home. You can have it customized to suit your available space and current layout. The freestanding stone feature can be placed anywhere in your bathroom, lending it a sense of authority and elegance.
Black Round Bathtub for Spa-Like Appeal Will be in Style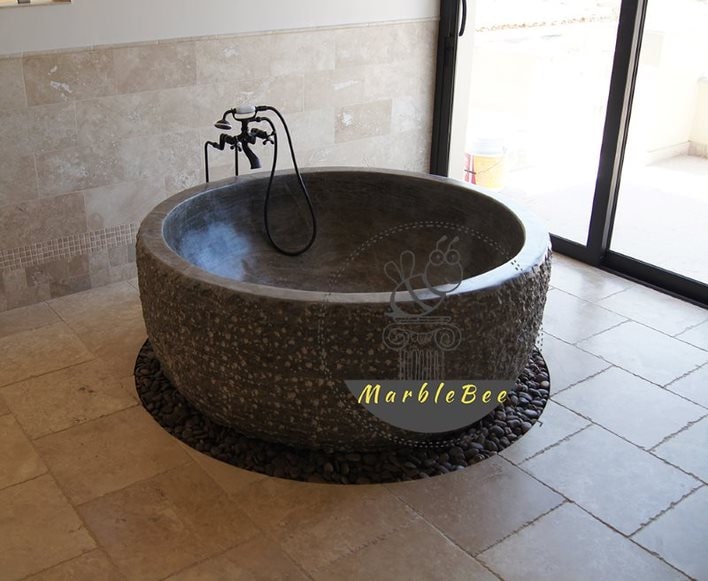 (Check out: Chiseled outside with polished inside round stone tub)
Be it a white bathtub or black, both look absolutely gorgeous. Take a gander at this black chiseled tub, which features a shiny, smoothly polished interior and a chiseled exterior in stark contrast. The tub has a broader rim than its above-mentioned counterparts, offering you the liberty to place soaps, shampoos, or a tub tray over it in perfect balance. The freestanding tub can be an amazing inclusion to any modern household, making it a stylish bathroom fixture for you to enjoy for a long time. It has been carved from natural stone, which makes it extremely strong, durable and elegant. It will introduce a different grace to your space and also impress your guests. Dazzle up your typical bath space with this stunner tub, which can also be customized with any modifications you may require.
Beige Travertine Bathtub Will Have no Match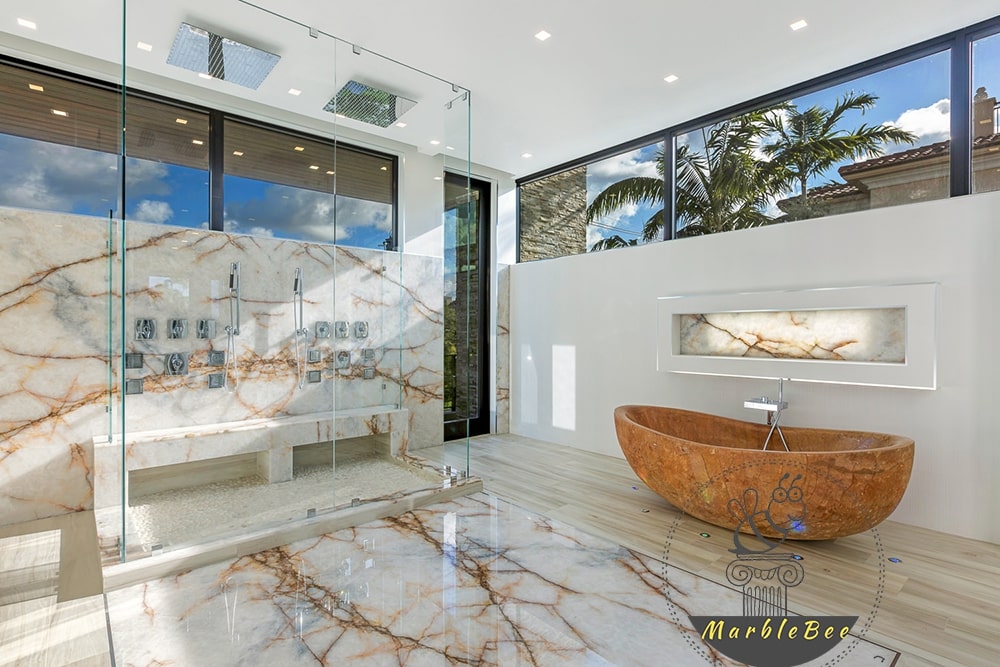 (Check out: Sandstone bathtub Unique Papillon design bath)
This oval travertine natural stone bathtub is the exact pop of color you may need in your monochromatic bath space. It has been hand carved from natural stone, giving it a genuine texture and an aesthetically appealing quality. It will transform your bathroom into a spa-like space where you will go to unwind at the end of a long day at work. The tub is deep, so you can submerge yourself in your bath and enjoy the warm water. It can be positioned anywhere in your bathing area, while its freestanding design makes it much more alluring than sunken or built-in bathtubs. Besides, you can contact the manufacturer for any modification requirements you make have to customize this tub to better suit your bathroom area.
Hand-Carved Jupiter Stone Tub For People Who Love Galaxy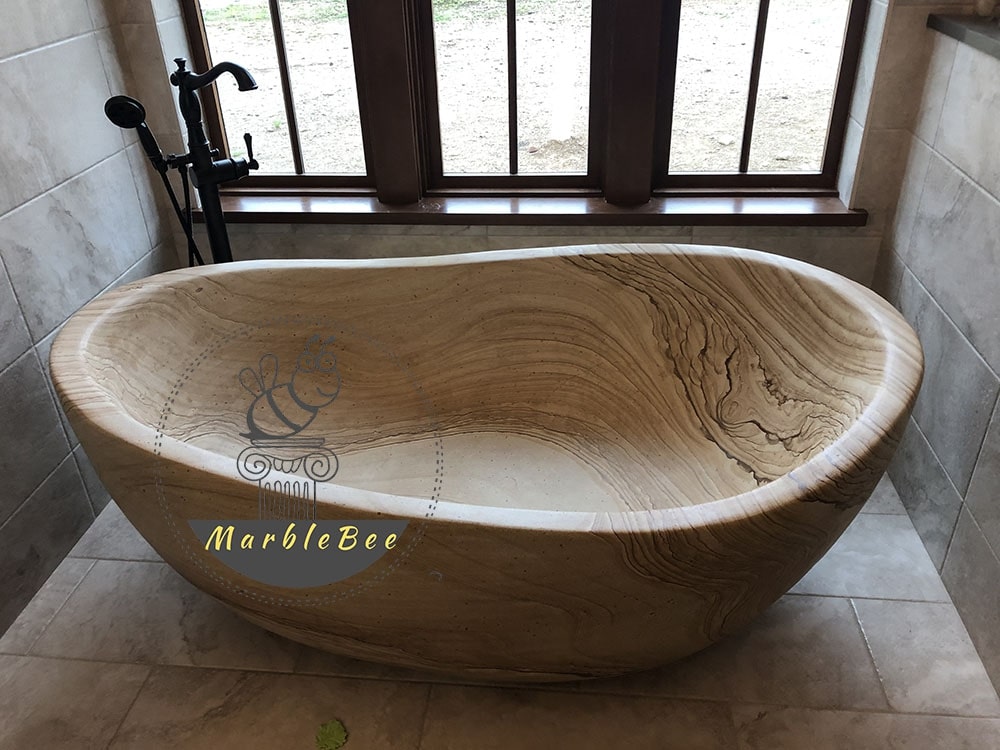 (Check out: Freestanding Sandstone Bathtub)
Did you know that there is a type of stone, which looks just like natural wood? Don't believe it? Take a look at this Jupiter marble bathtub, which has been hand-carved from natural stone and has the appearance of a wooden tub. The stone features the same color and delicate lines as wood. This beautiful bathtub can elegantly enhance the design of your bathroom while offering you a brilliantly comfortable space to relax. The bathtub is made from Jupiter marble, which mirrors the warmth and beauty of wood, flawlessly combined with the strength and durability of the stone. This beautiful tub can be customized in any size and shape to better fit your available area and the existing bathroom layout. It is a perfect addition to contemporary home and bestows a subtle quality to the space with its wood-like surface and beautiful texture. You can enjoy a hot bath with the water harmoniously evenhanded by the tender natural stone grain.
White Oval Bathtub with Curved Base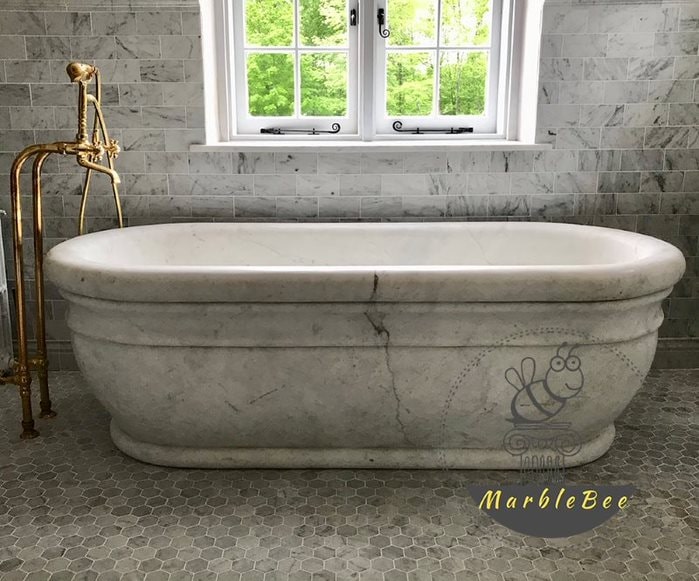 (Check out: Contemporary Rectangular white marble bath)
A sleek, smoothly polished white marble oval bathtub with a curved base would be the highlight of any bathroom. You can place this brilliant piece in the middle of your bath space or by the window or even by the patio deck – options are endless. This graceful bathtub has been carved from natural white marble and features subtle carving marks on the outside with three horizontal lines running from top to bottom. It has a slightly inward curved design that will give you a perfect seating position as you submerge yourself in a hot bath. The freestanding tub will not hinder your current design layout and to fir your available space, the manufacturer offers the customization option to make it in any shape or size. It is the perfect incorporation in any modern, mid-century or contemporary home.
White Marble Swirling Bathtub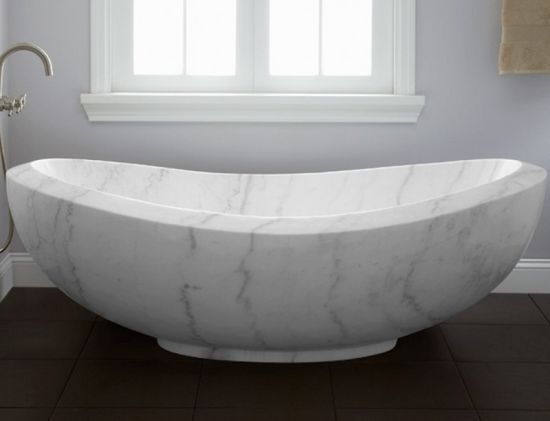 Swirl away your stress and feel relaxed in this white marble swirling freestanding bathtub. Install this tub in your bathroom and accentuate your modern bath. The artistic and elegant solid surface of the tub creates an aesthetically appealing quality about it. The curvaceous design makes it a beautiful central point from any angle in your bathroom, which surely will impress your guests or family. The curved interior and smoothly polished surface create a soothing and comfortable bathing experience. It has been carved from high-quality non-porous solid surface material to provide a beautiful unswerving finish. The tub also has leak-resistant durability and is easy to maintain. It is absolutely perfect to add a stunning element and a little bit of sophistication to any bath area. You can also have it custom-made in any shape or size to make it a better fit for your available space and existing design layout. After all, it is an investment that will increase the value of your entire property.
Pure Black For Zen Style Bathrooms will be in craze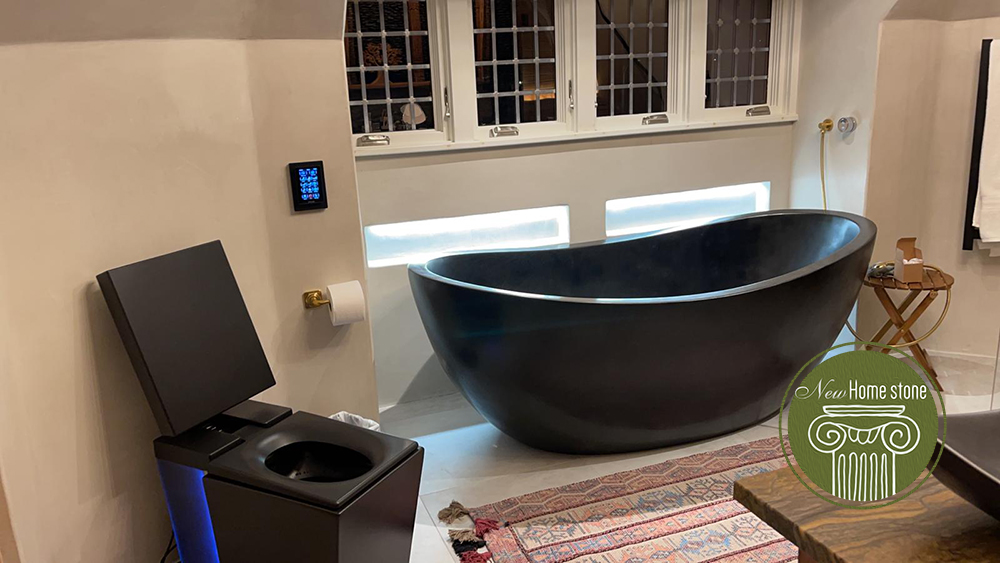 (Check out: Black Marble bathtub Unique Papillon design bath)
There is something mysterious and alluring about a black marble tub. It can instantly elevate the design quotient of any space. Just look at this beautifully hand-carved black marble tub. It features a shiny, smoothly polished surface that will create a zen environment right in your bath area at your home. The oval shape of the tub is perfect to cocoon your body shape as you enjoy the gentle, warm water caressing your skin and relieving the stress of a hard, long day. This stunning marble accent can be customized in any shape or size as per your requirements you may have to make it a better fit for your existing layout and available space.
All these stone bathtub designs are custom made by Marblebee for different bathroom space according to the clients' requirements. We have wide variety of bathtubs to glorify your bathroom space. Feel free to check our website and contact us.